Two Canadian sites using GE Healthcare's new scanner and software say the faster throughput will also help with patient waitlists and backlogs.
Two Canadian health centers have recently installed new deep learning software that is being described by radiologists as a "game-changer" for magnetic resonance imaging at Ridge Meadows Hospital in British Columbia's Fraser Valley and the IWK Health Centre in Halifax.
Developed by Dr. Marc Lebel, GE Healthcare's Lead Scientist for Neuro MR at the University of Calgary's Seaman Family MR Research Centre, AIR Recon DLTM is using deep learning to improve the signal to noise ratio by removing the noise and ringing from MR raw data, thereby improving image quality and reducing scan time. AI-powered AIR Recon DL software for MRI gives a 1.5T scanner the image-quality of a 3T machine.
Ridge Meadows Hospital acquired a GE Healthcare 1.5T wide bore MRI scanner in October 2020 and went live with AIR Recon DL in May of this year.
"We worked very closely with GE reps and spent a lot of time with them commissioning our new scanner," recalled Ridge Meadows radiologist Dr. Blake Jamieson. "They took notice of the fact that we were very fastidious about image quality and offered us an opportunity to be an early adopter site."
GE Healthcare released AIR Recon DL in the fourth quarter of 2020 and has deployed it on 3T MRI scanners around the world. Ridge Meadows was the eighth 1.5T site worldwide to pilot the software and the first to deploy it in Canada.
"A 3T magnet alters the signal to noise ratio by increasing the signal," said Dr. Jamieson. "We've altered the signal to noise ratio by decreasing the noise, so to my eyes, the images from our 1.5T machine with deep learning and the images from a 3T machine look very similar.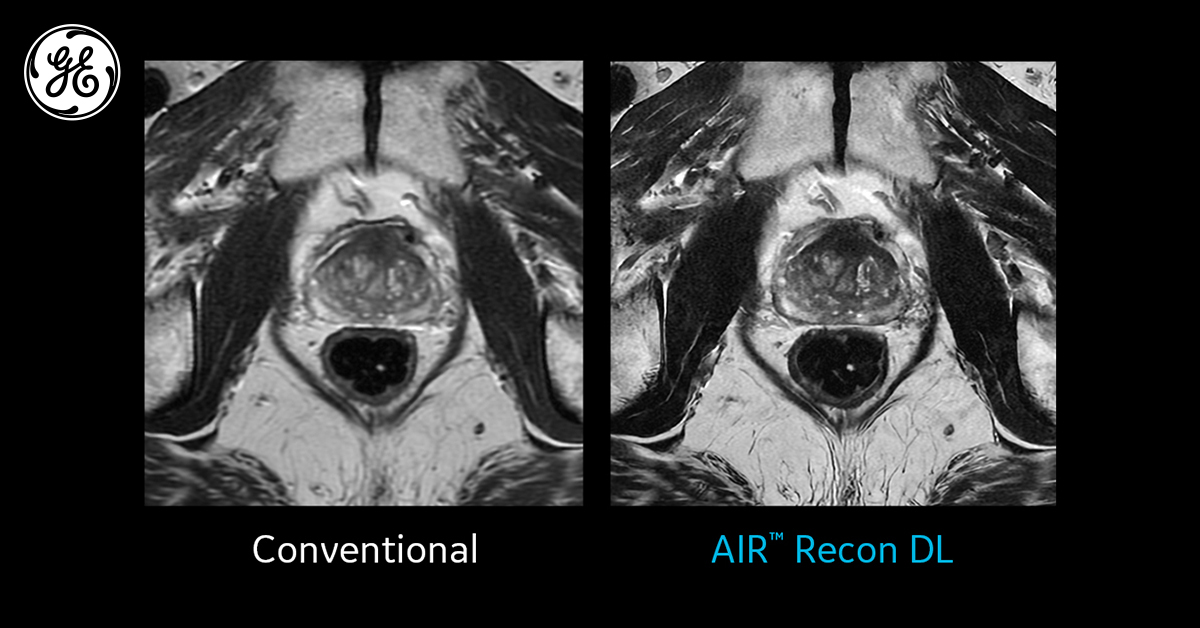 "This is a very interesting way to go about optimizing the signal to noise ratio without the colossal cost of putting in a bigger magnet."
Equipping the 1.5T scanner with the deep learning algorithm was the equivalent of going from HD to 4K, he added.
Using AIR Recon DL, Ridge Meadows also has the option of acquiring the same diagnostic quality of images as before, but much quicker. This is especially advantageous because of the type of patients referred to a site with a wide bore scanner.
"When you have a wide bore magnet and there are only a few others around you, you become a referral site for patients who are claustrophobic and have trouble holding still, which is important because, if you move, you get motion artifacts, or noise," explained Dr. Jamieson. AIR Recon DL removes the noise from the raw data and eliminates the need to increase the duration of the scan to obtain sufficient signal.
"Being able to shave time off a scan and increase throughput can be really important," said Dr. Jamieson. "We scan from 7 am to 11 pm seven days per week and do 25 or 26 patients per day to serve two fast growing communities. If we can increase the number of patients by three per day, that's an extra 1,000 patients per year we can put through our magnet."
"We haven't quite got there yet because we spent a lot of time comparing our old and new images to make sure we were happy with the result and that nothing was lost as we applied the deep learning algorithm. But we're very happy. Nothing has been lost and the images are much clearer and easier to read."
The improved quality of the images is especially important for scans with a small field of view and a high matrix because the smaller the target, the fewer protons there are to create signal. Dr. Jamieson cites the pituitary gland as an example of a scan that would normally be tough to acquire the desired signal to noise ratio.
IWK Health Centre, a pediatric and women's hospital serving the Maritime provinces, acquired and installed a new GE 1.5T wide bore MRI scanner in November 2020 and subsequently installed and started to use AIR Recon DL in July 2021.
"We clearly see a huge difference in the quality of our scans and time saved," said IWK Staff Pediatric Neuroradiologist Dr. Naeem Khan. "We are able to acquire high quality images in half the time as compared to scanning without AIR Recon DL, and if we're very keen on quality for fine details in certain special circumstances, we can let the sequence go on longer yet still not longer than the conventional sequence without AIR recon DL and the quality will be substantially better."
Reducing scan time is especially important for children, who are unable to hold still for long. It will also boost throughput.
Scanning is available 24/7 at IWK Health Centre: from 7:30 a.m. to 9 p.m. for scheduled scans and as needed after hours for emergency care. Wait times are currently six months or more for non-emergency patients requiring anesthesia and four to six weeks for all other non-emergency patients, but "If we start doing 40 percent more patients on a daily basis, we can probably eliminate the wait list in a year or two," said Dr. Khan.
Shorter scan times will also reduce the need to administer anesthetic and allow very sick patients to return to intensive care faster than would otherwise be possible.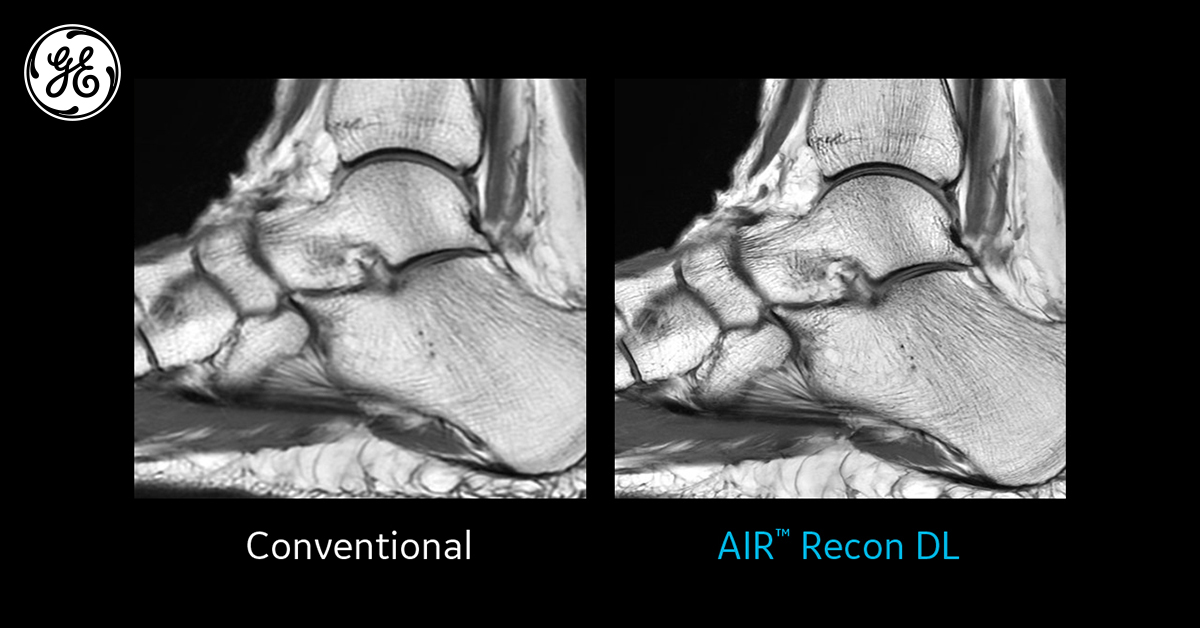 Dr. Khan offered the example of a non-sedated teenager who was very compliant for the first half of the scan and then started moving around. "Because he was compliant for the first 20 minutes, we were able to get 90 percent of the scan done. We gave him a break, took him out of the bore, talked to him for a few minutes then put him back in and carried on for another seven minutes.
"Including the recess in the middle, we did not encroach on the next patient's time slot. That's the kind of situation we're encountering on a daily basis."
Ridge Meadows' MRI supervisor Eve Provencher has learned to take the marketing hype of software vendors with a grain of salt.
"Sometimes," she said, "a company will tell you their product will make everything different, but you try it and it's not true. That wasn't the case with AIR Recon DL. I was really amazed at what AI can do. I think it's going to change the MRI world because we'll be able to scan patients in a shorter period of time and still have high resolution pictures."
AIR Recon DL has already been deployed in sites across Canada with several more installations expected throughout the remainder of the year.