Excellent anatomical coverage

With its 20.5 x 20.5 cm (8.1 in) square flat-panel digital detector for EP procedures, Innova IGS 520 offers 38% greater coverage than 17.7 cm (7 in) square panels. It covers more anatomy, designed for fewer runs than smaller detectors, enabling efficient use of contrast and dose.

Superb image quality with high Detective Quantum Efficiency (DQE)

The proprietary angiography flat-panel detector offers one of the industry's highest ratings for Detective Quantum Efficiency (DQE), a parameter internationally acknowledged as an index of detector performance in contrast- and dose-limited imaging performed in clinical studies. High DQE enables better-quality images at the same dose, or the same quality image at a lower dose.

Lower dose by design

GE designs systems from the ground up with the tried and trusted GE imaging chain, optimized to provide the image clarity you need while helping you keep dose as low as possible. Our dose-reduction features empower you to easily optimize and personalize dose settings from the tableside, while maintaining clinical details you need to make well-informed decisions. But improving dose management takes a strategy – what we call the GE Blueprint. It includes low-dose imaging technologies for minimally invasive procedures, but also considers the people, culture and processes around them.
Learn more.

Simple, centralized, automated controls

Control your system and images with integrated, intuitive tableside controls. With simple menus, the Central touchscreen lets you control most system functions, configure the system, modify imaging parameters, control your large display monitor6, and manipulate advanced applications – all at the tableside. The comfortable, easy-to-grasp control knob makes it easy to pan the table, position the gantry, and perform procedures.
All-in-one large display monitor

The full-color 8 megapixel medical-grade large display lets you view multiple images from multiple sources. Get up to 120 customized layouts, easily changeable at tableside with the Central touchscreen. Zoom in comfortably without loss of detail or pixilation to get the clinical focus you need.
ASSIST
Power up your clinical decision making
The interventional field is growing with ever-expanding capabilities and migration to less invasive, safer and more cost-efficient procedures. With the new generation of GE's advanced interventional imaging software solutions, ASSIST, you can expand your clinical versatility and successfully plan, guide and assess increasingly sophisticated procedures with greater precision and dose efficiency.
PCI ASSIST2
PCI ASSIST2 helps improve visibility3 up to +85% in moving anatomy, and up to 75% in larger patients, at the same dose.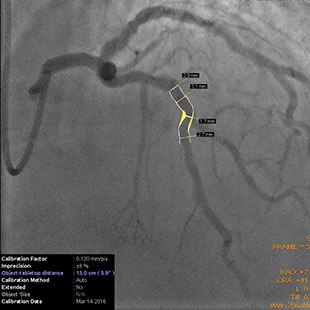 Plan
With OneTouchQA measure the size of the vessel and analyze the percentage of stenosis from tableside directly from the Central touchscreen. Then, determine the optimal diameter and length for the stents you require for the case.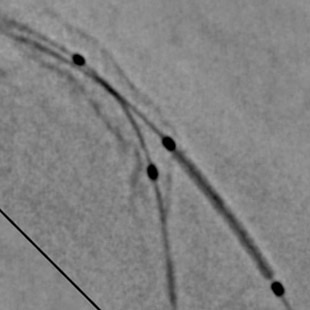 Guide
StentVesselViz was used to open the first stent at the ostia level to get an optimal position for the second stent in the side branch. StentViz was used to guide the stents to reach minimal overlap.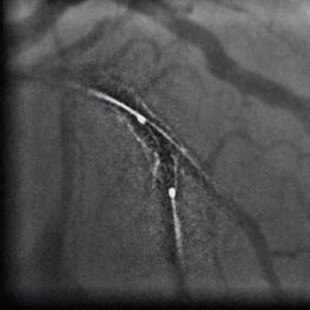 Assess
With StentViz precisely evaluate the stent overlap, fracture and uneven deployment.
StentVesselViz enabled assessment of stent deployment in relation to the vessel wall.
Valve ASSIST 24 for Transcatheter Aortic Valve Implantation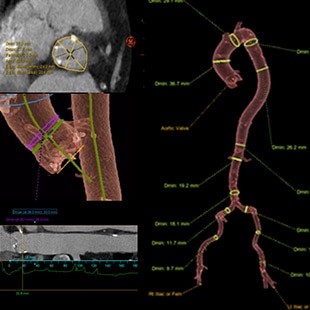 Plan
0-click aorta segmentation and valve definition makes accurate valve sizing accessible to anyone.
Guide
Leverage planning directly in the exam room with intuitive table side user interface. Calcification Enhancement improves the visualization of moving contrasted structures.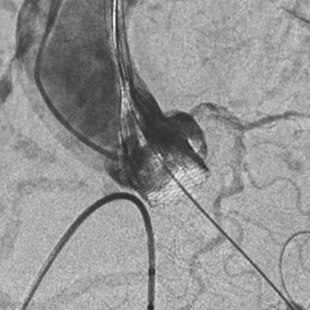 Assess
Assess potential regurgitation with exceptional contrast visualization. Real time benefits of Ultrasound imaging5 or angiography all in one place.
Valve ASSIST 24 for Left Atrial Appendage Closure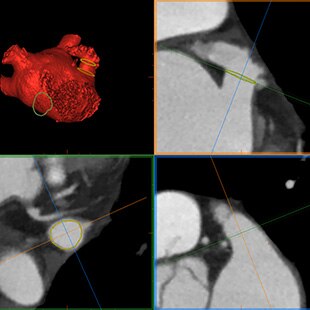 Plan
Segment easily the atrium in a single click. Measure the appendage neck. Define and mark in advance trans-septal perforation.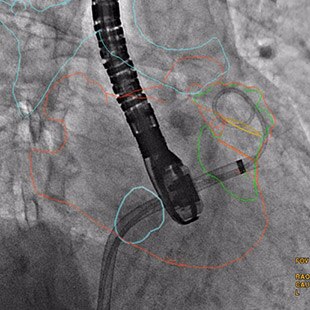 Guide
Guide with confidence your trans-septal puncture and device deployment with pre-op CT overlay.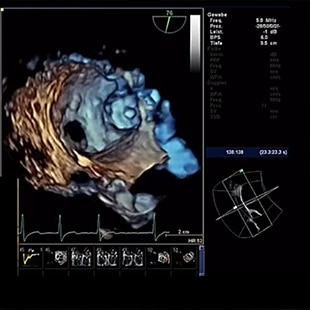 Assess
Ultrasound imaging5 can be integrated to our Large display monitor6 . All information converge in one place to help you make fast decision.
In clinical use, the results of the application of dose reduction techniques will vary depending on the clinical task, patient size, anatomical location and clinical practice. The Interventional cardiologist, assisted by a physicist as necessary has to determine the appropriate settings for each specific clinical task.
1. Option
2. PCI ASSIST refers to features of Innova IGS 520
3. Improvement vs. same test without PCI ASSIST option. IQ & visibility improvement is measured on Innova IGS530 with phantoms using various Plexiglas Thicknesses, acquisition parameters and the NEMA spoke wheel tool (ref 1), calculating the ratio of the contrast of the moving wires to the background noise level. The amount of Image Quality improvement related to PCI ASSIST depends on the acquisition parameters, clinical task, patient size, amount of motion in the image, anatomical location, and clinical practice. Ref1: A new tool for benchmarking cardiovascular fluoroscopes; S. Balter, Radiation Protection Dosimetry, Vol. 94, No. 1–2 pp. 161–166 (2001)
4. Valve ASSIST 2 solution includes TAVI Analysis, HeartVision 2 and requires AW workstation with Volume Viewer, Volume Viewer Interventional. These applications are sold separately.
5. Ultrasound imaging is not included in Valve ASSIST 2
6. The U/S Image on the Large Display Monitor is for information. The primary display for U/S imaging is on the Ultrasound screen.