Benefits
Put yourself at the center of your procedures.
With nothing in your way, you can image the anatomy of interest easily, position your monitors freely,
and access your patients completely from the left or right side on the Discovery IGS 740.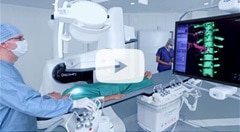 Liberating rail-free design
The Discovery IGS 740's swiveling wheeled gantry moves freely on the floor, not on the ceiling, eliminating overhead rails. So you can place your monitors exactly where you need them for comfortable viewing without straining.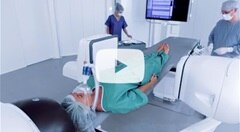 Large wide-bore C-arm
The Discovery IGS 740 has a wide bore C-arm. The combination of this wide bore and the large 41 x 41 cm detector enables to image patient in 3D at any point of the anatomy without collision even for large patients with BMI up to 40. Thanks to its wide bore, Discovery IGS 740 allows 3D imaging for at least 95% of the America's adult population and potentially more than 95% of the world's adult population.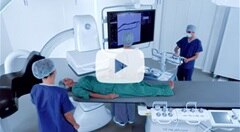 Dedicated arm imaging positions1
Perform procedures such as left arm fistulograms comfortably with the Discovery IGS 740's dedicated arm imaging positions.
See large anatomies in one view.
Cover large anatomies such as the liver or both legs simultaneously with fewer runs than smaller
detectors, for efficient use of contrast and dose.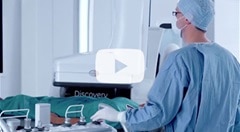 An exceptionally large detector
With its broad 41 x 41 cm (16.1 in) digital detector, the Discovery IGS 740 system boasts one of the largest fields of view for interventional imaging. Moreover, the GE-proprietary digital detector delivers one of the industry's highest levels of DQE, the accepted measure of X-ray detector dose efficiency.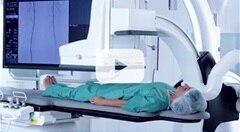 Extended coverage in 2D
With InnovaBreeze1*, take full advantage of the Discovery IGS 740's very large field-of-view and follow the contrast bolus in both legs in real time using variable panning speed control.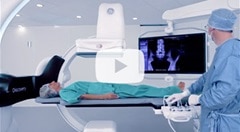 Large organs in 3D
Combine the wide-bore C-arm and the 41 x 41 cm (16.1 in) digital detector, and see large organs like the liver in 3D. Then use FlightPlan for Liver1 to help you identify tumor-feeding vessels in a few clicks and be selective during your liver embolization.
Design your room with amazing flexibility.
By eliminating the rails of ceiling-mounted systems, the Discovery IGS 740 frees up your ceiling
entirely for more flexibility in designing your room.
Drawing the ideal room
With no rails on the ceiling blocking where to position ceiling-mounted ancillaries, the Discovery IGS 740 gives you flexibility to draw the location of your monitors, lights, and rad-shields where you need them to be. And with two customizable parking positions, the Discovery IGS 740 adapts to suit your room size and shape.
No reinforced ceiling structure needed
With the mobile Discovery IGS 740 system, there's no need for long and complex
infrastructure improvements to reinforce your room's ceiling structure.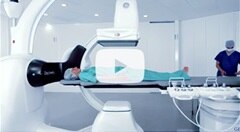 Siting in precious space
Whether you're building a new room, re-purposing an existing room, or re-configuring a small room, the Discovery IGS 740 lets you use precious space efficiently. Fit the Discovery IGS 740 in rooms as small as just 35 square meters (377 square feet), for a wider choice of siting options in situations where space is at a premium.
Gallery
Discovery IGS 740

Discovery IGS 740
1. Option
2. For XA modality series, Integrated Registration currently supports only 3D X-Ray Angiography images (stored as CT Image Storage DICOM objects) acquired with GE equipment and reconstructed with the Innova 3DXR application.
* The Discovery IGS 740 has the widest bore (distance tube cover to detector cover) of the major players' interventional angiography systems used for imaging in the field of interventional radiology & oncology procedures.