Mid-size panel for clinical versatility

At 31 x31 cm square (12.2 in), the Innova IGS 530 flat-panel digital detector is designed for a wide range of cardiovascular and interventional imaging procedures. It can cover both legs simultaneously and maintains the capability for steep angulations.

Superb image quality with high Detective Quantum Efficiency (DQE)

The proprietary angiography flat-panel detector offers one of the industry's highest ratings for Detective Quantum Efficiency (DQE), a parameter internationally acknowledged as an index of detector performance in contrast- and dose-limited imaging performed in clinical studies. High DQE enables better-quality images at the same dose, or the same quality image at a lower dose.

Lower dose by design

GE designs systems from the ground up with the tried and trusted GE imaging chain, optimized to provide the image clarity you need while helping you keep dose as low as possible. Our dose-reduction features empower you to easily optimize and personalize dose settings from the tableside, while maintaining clinical details you need to make well-informed decisions. But improving dose management takes a strategy – what we call the GE Blueprint. It includes low-dose imaging technologies for minimally invasive procedures, but also considers the people, culture and processes around them.
Learn more.

Simple, centralized, automated controls

Control your system and images with integrated, intuitive tableside controls. With simple menus, the Central touchscreen lets you control most system functions, configure the system, modify imaging parameters, control your large display monitor, and manipulate advanced applications – all at the tableside. The comfortable, easy-to-grasp control knob makes it easy to pan the table, position the gantry, and perform procedures.
All-in-one large display monitor

The full-color 8 megapixel medical-grade large display lets you view multiple images from multiple sources. Get up to 120 customized layouts, easily changeable at tableside with the Central touchscreen. Zoom in comfortably without loss of detail or pixilation to get the clinical focus you need.
ASSIST
Power up your clinical decision making
The interventional field is growing with ever-expanding capabilities and migration to less invasive, safer and more cost-efficient procedures. With the new generation of GE's advanced interventional imaging software solutions, ASSIST, you can expand your clinical versatility and successfully plan, guide and assess increasingly sophisticated procedures with greater precision and dose efficiency.
Needle ASSIST4
Performing needle procedures in the interventional suite frees up your CT system and provides exceptional access to the patient. However, under fluoroscopic guidance, it may be challenging and time-consuming to find the right entry point and advance the needle while avoiding critical structures.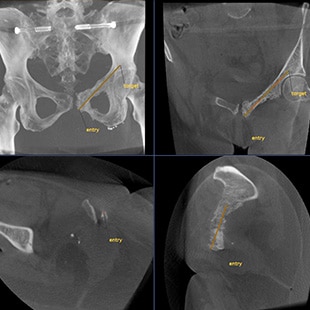 Plan
Define optimal needle entry points and pathways directly on oblique CBCT cross sections.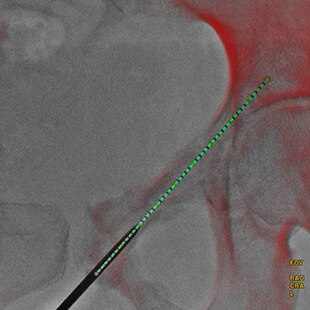 Guide
All at tableside, visualize and correct mis-registrations in both translation and rotation.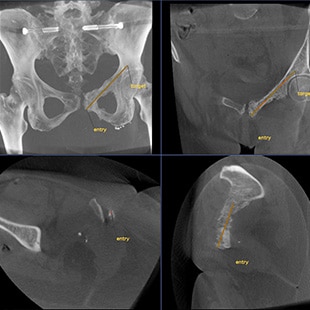 Assess
With Stereo 3D, visualize reconstructed 3D needle on CBCT oblique view from 2 fluoroscopic images with precision.
Vessel ASSIST5 for Aorto-Illiac Chronic Total Occlusion
Peripheral recanalization can be delicate especially for long occlusions. With Vessel ASSIST5, the 3D and centerline overlay helps to cross occlusions, position and deploy devices.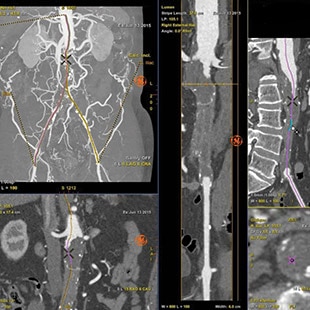 Plan
Automatically extract the bone and vessel anatomies. Edit vessel centerlines and bridge them through occlusions.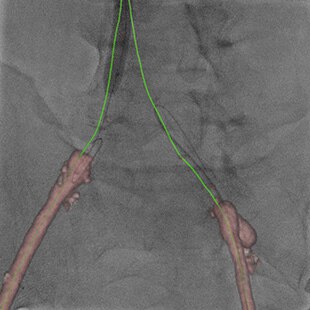 Guide
Import segmented anatomy, centerline and landmarks. Overlay them on live fluoroscopy whatever the angulation.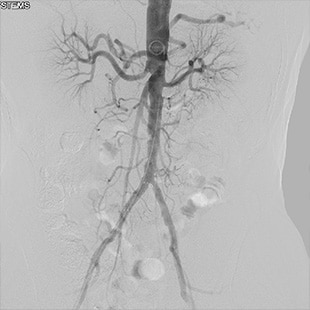 Assess
Use DSA images on a large field of view to image the entire anatomy of interest.
Vessel ASSIST5 for SFA Chronic Total Occlusion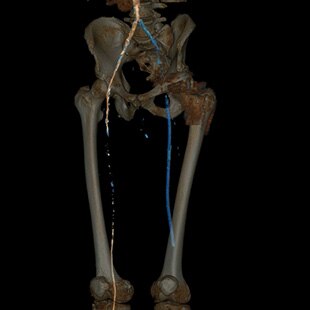 Plan
Automatically extract the bone, vessel and calcifications. Easily edit vessel centerlines and bridge them through occlusions.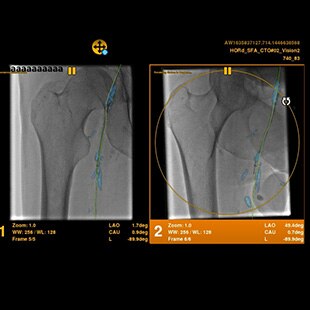 Guide
Fuse pre-operative data on live fluoroscopic images using the intuitive Bi-View guided workflow and the automatically extracted calcification, all at table side.
Assess
Use DSA images on larger Field Of View and use Digital Zoom to focus on the anatomy of interest. An InnovaBreezeTM 6 acquisition helps you control full lower limb in a single acquisition.
In clinical use, the results of the application of dose reduction techniques will vary depending on the clinical task, patient size, anatomical location and clinical practice. The Interventional radiologist, assisted by a physicist as necessary has to determine the appropriate settings for each specific clinical task.
1. Option
2. Except in following countries: Germany, Switzerland, Austria, New Zealand where that list is limited to 3 preferences
3. By requesting it to your entity responsible for the servicing of your equipment
4. Needle ASSIST solution includes TrackVision 2, stereo 3D and requires AW workstation with Volume Viewer, Volume Viewer Interventional. These applications are sold separately.
5. Vessel ASSIST solution includes Vision 2, VessellQ Xpress, Autobone Xpress and requires AW workstation with Volume Viewer, Volume Viewer lnterventional. These applications are sold separately.
6. InnnovaBreeze is sold separately