Being fast to learn and quick to adapt has had many advantages in the European fightback against COVID-19 (SARS-CoV2). Faced with burgeoning numbers of infections, hospitals not only mobilised their staff in readiness of the impact, but also looked to their frontline imaging equipment to help defend, define and diagnose patient pathways.
In Spain, among the hardest hit countries, radiological teams drew on the versatility and simplicity of digital X-ray to help examine lungs and detect patients with emerging pneumonia related to COVID-19. Morales Meseguer General University Hospital in the region of Murcia called on a unique 3D tomosynthesis digital radiography application to speed up the diagnosis of COVID-19 patients presenting in Primary Care settings and the Emergency Department. Tomosynthesis, most commonly used in breast screening examinations, provides greater sensitivity than a traditional chest X-ray to uncover signs of early pneumonia.
This was useful for patients within their facility that presented with upper respiratory symptoms but were awaiting COVID-19 laboratory test results. They used tomosynthesis to help them distinguish mild respiratory issues from moderate-to-severe respiratory cases based on the absence or presence of pulmonary dysfunction or opacities. If pneumonia was ruled out, it enabled them to let the patient return home to isolate and thus avoid hospitalization. This helped them manage capacity pressures on the hospital.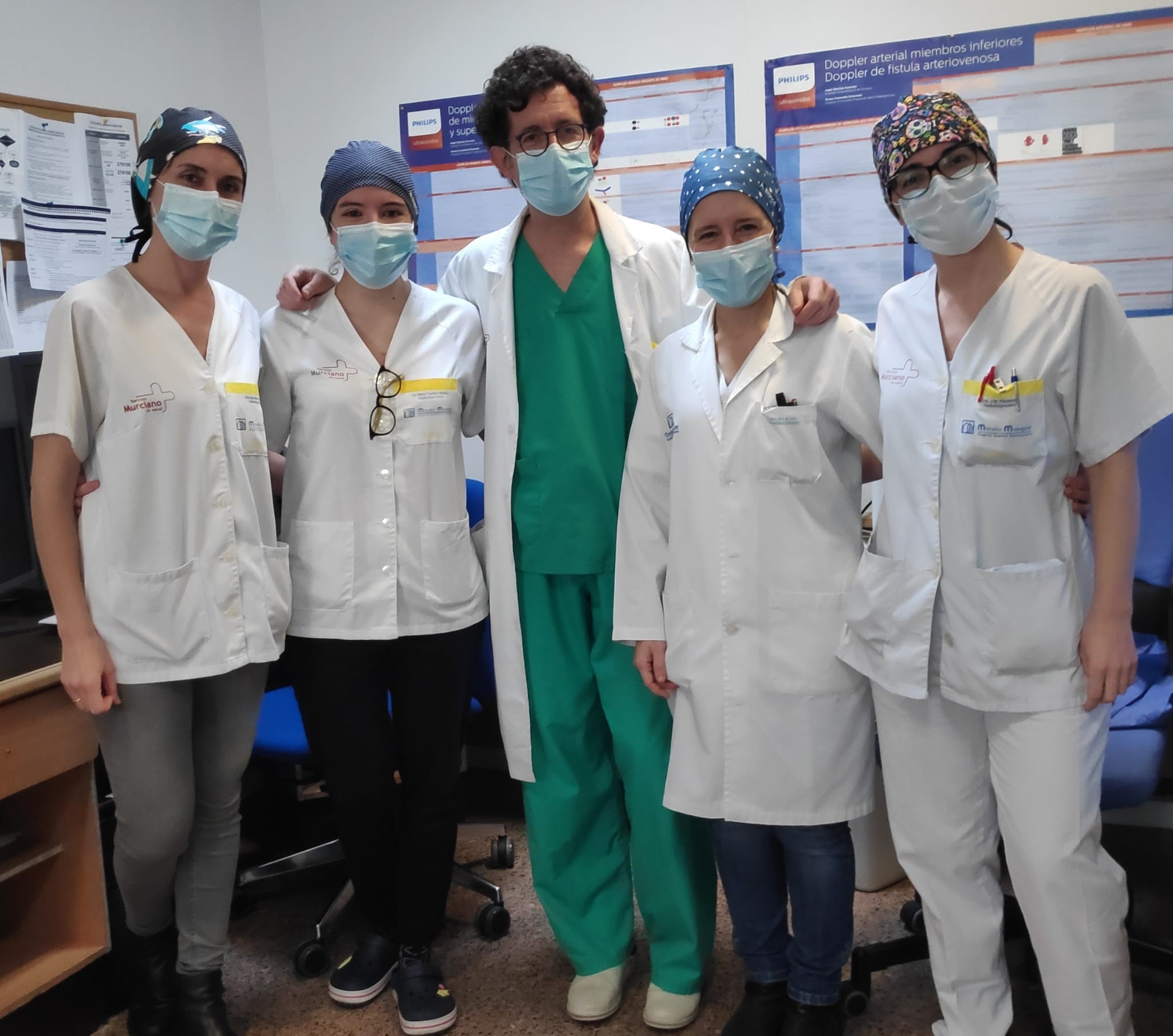 Morales Meseguer General University Hospital team
Speeding up radiology workflow
The use of tomosynthesis offered an alternative imaging option due to its quick use, low dose levels and easy access. Examination times using X-ray averages 5 to 15 minutes compared to 1 hour on alternative high-end imaging systems. In addition, the decontamination of the X-ray system between patients also offered advantages when comparing infection control cleaning times with other imaging modality suites.
Dr. Juana Plasencia, a Radiologist from the Emergency Radiology Department of Morales Meseguer General University Hospital states, "Although we are still evaluating our early findings, it would seem that within our facility the extent of pneumonia was seen better with tomosynthesis due to it offering diagnostic information through focused planes as compared to a standard chest X-ray. It helped us rule out potentially life-threatening pneumonia."
She continues, "There is a higher risk of contagion moving patients from the emergency room to CT imaging suites, and involves 20 minutes to clean the room once a patient has been in. The use of tomosynthesis on our X-ray system has enabled us to decrease the workload on CT and kept suspected COVID-19 respiratory cases in a separate location inside the hospital environment."
Agile X-ray innovations that expand potential
Traditionally, thoracic cases have been explored using chest CT. However, with capacity pressures threatening to overwhelm hospitals during the first COVID-19 pandemic wave, rapid new thinking and imaging innovations were applied.
VolumeRADTM , from GE Healthcare, can be deployed quickly via a software upgrade on fixed X-ray units to expand imaging possibilities. It works by providing multiple images of the chosen anatomy in a single sweep at low dose. Up to 60 exposures are obtained and reconstructed into a set of tomographic images that can be reviewed sequentially on a workstation. Tomosynthesis has been labelled a 'half-way house' between X-ray and CT since fewer projections are needed to perform the reconstruction and, as such, dose and costs are reduced.
Harnessing the power of existing capital assets
Looking to existing imaging equipment assets already present in the hospital setting can offer quick solutions to the unexpected. Today, the hardware shell of medical equipment doesn't reflect the power inside as software applications applied over time expand the potential and possibilities across a wide range of clinical specialties. In the case of the unexpected and rapid surge of COVID-19, applications dedicated to lung imaging or techniques such as VolumeRAD tomosynthesis could be upgraded or accessed quickly, without the need for engineers to visit sites. This swift reaction provides operational and clinical time savings to enhance the levels of patient care.
Furthermore, the scaling up of diagnostic imaging capacity via imaging rentals or new system procurements require planned and sometimes lengthy capital asset procurement processes. The acceptance of software licenses to expand the use of and benefit from current capital equipment assets, as in the case of VolumneRAD, can overcome some policy or health procurement challenges.
Preparing for ongoing seasonal epidemics or post Covid-19 follow-up
The capture of diagnostic images and other patient health data relating to the first wave of COVID-19 is incredibly important to further knowledge in science and medicine. Tomosynthesis offers the potential to help diagnose the existence and extent of lung damage to further knowledge and understanding. This could help add depth to the gathering of epidemiological data about the outbreak, how it was controlled, managed and the subsequent outcomes. This could greatly assist in determining protocols and preparing care pathways for subsequent waves of outbreak.
Learnings from the use of tomosynthesis may also offer evidence about the pulmonary damage inflicted on people that were diagnosed with COVID-19. Although science changes by the day, the management of post COVID-19 positive patients who suffered severely from respiratory factors could suggest that imaging follow-up is continued to observe, repair or assess permanent damage to the lungs such as scaring or development of nodules.
Controlling the spread of infectious disease
For general radiographic imaging, the potential for mobile X-ray that can be used at the patient bedside also offers infection control benefits. Keeping COVID-19 patients in isolation in separate wards or ICU departments, and bringing diagnostic imaging equipment to them, eliminates the potential for cross-contamination into wider areas of the hospital environment.
Often fixed imaging suites are located near outpatient or emergency departments and are also used for a wide range of general imaging needs. Limiting patient contact to a floor or unit, and to a small group of healthcare workers in that restricted area, also compresses the potential for infection spread when wider staff, such as porters or healthcare assistants, are moving people to conventional imaging locations across the hospital setting.
Public health directives on pandemic influence imaging choice
The selection of imaging modality for examining patients with COVID-19 to guide triage or therapy was recently discussed in a multi-national consensus statement by the Fleischner Society entitled, 'The role of chest imaging in patient management during COVID-19 pandemic'. The value of each was balanced by risk of transmission, dose levels, consumption of PPE and cleaning of radiology rooms. It was caveated by acknowledging that opinions and evidence are changing daily in what is a highly dynamic environment, but interestingly, it gave insight about the choice of imaging modality and timing.
With respect to chest X-ray detecting viral pneumonia, it discussed that the experience can be dependent on public health directives. For example, in Wuhan, China, where patients were encouraged to present early, the greater sensitivity of CT for early pneumonic changes was more relevant. Conversely, in New York, the early epicentre in the USA, patients were instructed to stay isolated at home until they experienced advanced symptoms and chest X-rays were often abnormal.
Sharing X-ray insights & experiences for mutual gain
Practical and real-life experiences of the COVID-19 pandemic will continue to disseminate from across Europe and around the globe. Hindsight and retrospective evaluations will be important to help to shape our future responses. The disease is still only approximately 6 months old and with no vaccine or cure on the current horizon, radiology responses will continue to play a part in providing insight on how to tackle patient care into the future.
In the hospital environment we already have a wide arsenal of imaging systems that can look deep inside the human body to give insights into anatomical changes. X-ray, despite its 125th anniversary this year, still has plenty to offer modern medicine. The technology has continued its pace of development and innovation to provide software applications and techniques that can still uphold the highest standard of patient care and provide resilience against the most modern of disease threats.