As ultrasound makes further inroads into the primary care landscape,1 versatility remains among the most important factors in its continued successful integration. General practitioners (GPs), physician assistants, nurse practitioners, OBGYNs, and all other clinicians in this space need an ultrasound system that is as diverse as the area of primary care itself.
But what does this versatility look like? What are its benefits? How is it put into practice? Some of the core pillars of the versatility of an ultrasound system include—but aren't limited to—the ability to utilize one system with adaptable applications in multiple environments, the potential to scale up to facilitate the diagnosis of additional conditions, the ability to accommodate practices with more limited budgets and resources, and ease of use among clinicians of different experience levels.
If your practice is considering or has already begun to leverage ultrasound in the interest of growth and increasing your scope of care, learn more about why versatility is important and some primary areas that are vital to your aims.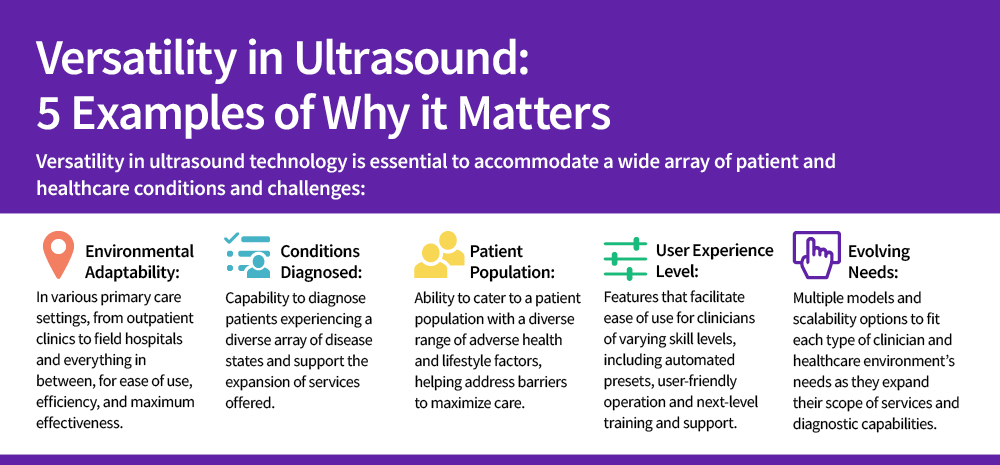 1. Versatility of Environment
Primary care takes place in many different venues. GPs and other primary care clinicians need an ultrasound setup that's equally useful in community medical practices, imaging centers, general practice clinics, family doctors' offices, hospitals, mobile clinics, and anywhere else primary care is administered.
In a practical context, features like portability, hands-free voice activation, longer battery life, wireless capability, and standardized report templates can help seamlessly integrate your ultrasound into all types of environments. Automated scan-assisting technology allows for fast, high-volume scanning, while reducing the amount of manual data entry, image optimization and extensive training for facilities with more limited personnel.
Look for ultrasound devices equipped with scanning assistance, wireless connectivity, adjustable monitors and system height, handheld options which help them fit all primary care environments.
Versatility of environment also means accommodating facilities with different budgets and financial resources. Primary care clinics that treat lower-income patients often face their own resource scarcity issues, which is why it's important that all types of facilities are able to access quality diagnostic equipment.
2. Versatility of Conditions Diagnosed
Perhaps the most apparent need for versatility in your ultrasound system relates to the range of patient imaging needs. Some studies suggest that abdominal, rectal, and vaginal ultrasounds are among the most common types being performed by general practitioners.2 As clinicians in multiple areas of specialization continue to pursue expansion through ultrasound integration,3 a more adaptable system is one of the most immediate, effective, and affordable ways to increase your scope of care by diagnosing more health issues.
While the conditions your practice plans to diagnose will vary based on factors like demographics, resources, insurance agreements, and others, it's imperative that you have a system that can quickly adapt to your potential expansion. In a clinical and diagnostic context, the ability to integrate condition-specific probes can help maximize your diagnostic capability.
A more versatile ultrasound device with condition-specific probes or tools, which are easily connected to its ports, can provide a ready-made vehicle for diagnostic expansion into other areas of care including breast, cardiac, bladder, pulmonary, and thyroid health.4 Additional probes and supporting software can help you quickly scale up your primary care practice into a multi-specialty facility without having to replace your existing system.
3. Versatility of Patient Population
Patient population is directly related to conditions treated. As you're looking to expand your practice with ultrasound, it's important to assess your current and emerging patient population for the most valuable use of your resources.
For instance, if your practice treats a predominantly older population, it may be worth investing in a system that can seamlessly scan for issues in areas that usually impact seniors, such as cardiac, abdominal, renal, liver, and vascular.5 Observing the importance of the versatility of patient population is also beneficial for clinics in remote areas with high rates of infectious diseases.6
Additionally, ultrasound may help improve treatment outcomes for patients of lower socioeconomic status by detecting long-term heart disease, abdominal issues, different types of cancer, and other life-threatening conditions for which they may not have had the means to seek specialized care. This is a common problem not only in underserved areas of the United States but in many other lower-income countries where disease prevention is not always a priority.7
The versatility to treat different populations can also help your practice use your system to manage shifting geographic and social determinants of health.8 For instance, if your primary care practice operates in a region that has a high population of heart disease patients, and you are looking to expand your diagnostic capabilities to help them, the right system can help you quickly and easily integrate cardiac ultrasound into your practice, based on existing and emerging needs.
4. Versatility of User Experience Level
Once you've made the decision to expand your practice through ultrasound, whether it's with the above features or any others, you may experience a learning curve in successfully integrating them into your everyday care. Unfortunately, lack of training and education continues to be one of the main impediments to the successful implementation of ultrasound in primary care.9
This is why you may need a system that is also simple in operator experience and can offer features that promote easy operation for users of all skill levels. Automated presets can facilitate startup ease, including recalling frequently used settings.
When searching for the right versatile system, look for features that automatically adjust brightness, uniformity, contrast, and other parameters to give you the optimum image quality in real time, as well as tools to help walk clinicians through the setup, operation, cleaning, and maintenance of the system. As you're preparing to integrate ultrasound into your practice, it's imperative that you choose an option with robust training, education, and support to ease the learning curve.
5. Versatility of Evolving Needs
The most versatile ultrasound systems also offer multiple models for scalability to help you upgrade and add capabilities when you need them. Ultrasound utilization is becoming more common among GPs.2 Primary care clinics around the world are continually seeing an increased patient population and caseload,10 which means many clinics may look to enhance their systems to diagnose and treat more conditions. With this expansion comes the need for more advanced ultrasound infrastructure to accommodate growth.
At the same time, adding new features should be seamless and not disruptive. Some ultrasound devices may offer multiple models to accommodate primary care clinics at each stage of application; you can start with basic options and expand your system later to include more probe configurations or software options as your practice grows.
Versatility is a must for your ultrasound system as your primary care organization strives to increase its scope of care, provide more diagnoses to patients who need them, identify new opportunities for revenue, and expand into different areas of specialization. Be sure the system you choose is diverse enough to meet your needs now and, in the future, as they evolve.
---
Reliable, affordable, easy-to-use and versatile, Versana ultrasound systems have a variety of automation features, intuitive controls, and budget-friendly options to best meet patient needs. 
---
REFERENCES: