In an era in which healthcare is challenged by cost, quality and access, Canadian providers continue to feel pressure to deliver world class patient care with less. Technology adoption and the shift to digital solutions can help mitigate these trends while improving access to care and enabling higher-value care models.  This will require collaboration and strong partnerships that will enable innovation through the use of advanced technologies.
"The Canadian Association of Radiology (CAR) believes in the need to incorporate advanced technologies in radiology such as AI to help meet the increased demand and tackle the existing backlog for medical imaging in Canada. Although there are no silver bullets to solve the pressures of the current backlog, innovative digitized healthcare will help extend the reach of radiologists in providing optimal patient care."–Gilles Soulez, MD, MSc, President, Canadian Association of Radiologists
According to the Commonwealth Fund, Canada scores very poorly (10th out of 11) in healthcare quality. Equally challenging has been access to care for routine magnetic resonance imaging (MRI) and computed tomography (CT) scans, where we rank 9th out of 11.[3] The COVID-19 pandemic has compounded these realities, with a Canadian Medical Association study finding that patients were waiting significantly longer for MRI and CT scans and that provinces would require at least 15% more funding over baseline costs to return to pre-pandemic levels.[4]
To address these challenges, GE Healthcare invests heavily in creating AI-powered technologies and solutions designed to help clinicians deliver exceptional care for patients in Québec and across Canada.  At GE Healthcare, our goal is to be the leading enabler of precision health. This includes continued investment in our development of new imaging technologies and our Edison™ AI platform portfolio to modernize standards of care and improve access through efficiency.  GE Healthcare increases quality-driven patient care by creating embedded AI that is seamless and integrated within the existing clinical workflow to automate repetitive tasks, shorten the amount of time it takes to prepare and perform the exam, reduce errors, avoid repeats, and increase throughput while decreasing patient wait time.
''When you want the best patient outcome and productivity, you need to be able to rely on a supplier that can give you innovative technology supported by exceptional service."
–Eve LaRiviere, General Manager, GE Healthcare, Eastern Canada
GE Healthcare collaborates with academic, clinical, and over 200 startup colleagues worldwide.  Collaborations with strong academic and clinical teams, such as clinician scientists from McGill University Health Centre and the CAR enable GE Healthcare to develop and deploy AI solutions to solve real-world healthcare problems. AI can solve many issues including those where we used to have to trade off quality for access.
The Future is Now: How close are we to delivering AI technologies for real-world problems that exist here in Québec and across Canada? A recent announcement from McGill underlines a real-world use-case of AI technology to support better quality and access to healthcare for rural communities.  The project spearheaded by Reza Forghani, MD, PhD, Associate Chief, Department of Radiology, Jewish General Hospital, and Caroline Reinhold, MD, MSc, Professor and Associate Chair of Research, McGill University Health Centre, will use artificial intelligence (AI) to analyze emergency medical images that require urgent review, helping to accelerate care and potentially save lives. This new technology will be mainly used for X-Ray and CT scans, which are the cornerstones of emergency medical imaging and diagnosis.
GE Healthcare's applications, data analytics, services, and intelligent devices all serve to enable clinicians to make faster, more informed decisions.  From CT to MR and PET/CT, to Women's Health to Ultrasound and X-ray, GE Healthcare devices and systems are making a positive contribution to patient care in Québec and across Canada.
"If properly implemented, artificial intelligence assisted medical devices provide a unique opportunity to enhance quality of patient care, efficiency, and cost-effectiveness of the healthcare system. Artificial intelligence diagnostic assistant tools and devices also have the potential to significantly enhance care and health equity for people leaving in rural communities and remote regions by accelerating diagnosis of emergent and critical illnesses."
–Reza Forghani, MD, PhD, Associate Chief, Department of Radiology, Jewish General Hospital

"GE Healthcare is honoured to work with renowned clinical teams in Canada, like clinician scientists at McGill Health Centre and the Canadian Association of Radiologists, to build on Canada's existing AI leadership and accelerate innovation development and adoption in our healthcare system.  There is limitless opportunity to thoughtfully leverage the power of AI to tackle the many challenges that our incredibly committed healthcare providers deal with on a daily basis as they constantly strive to improve the quality and access to care for Canadians from coast to coast."
–Heather Chalmers, President and CEO, GE Canada, President, GE Healthcare Canada
A CT that improves image quality and efficiency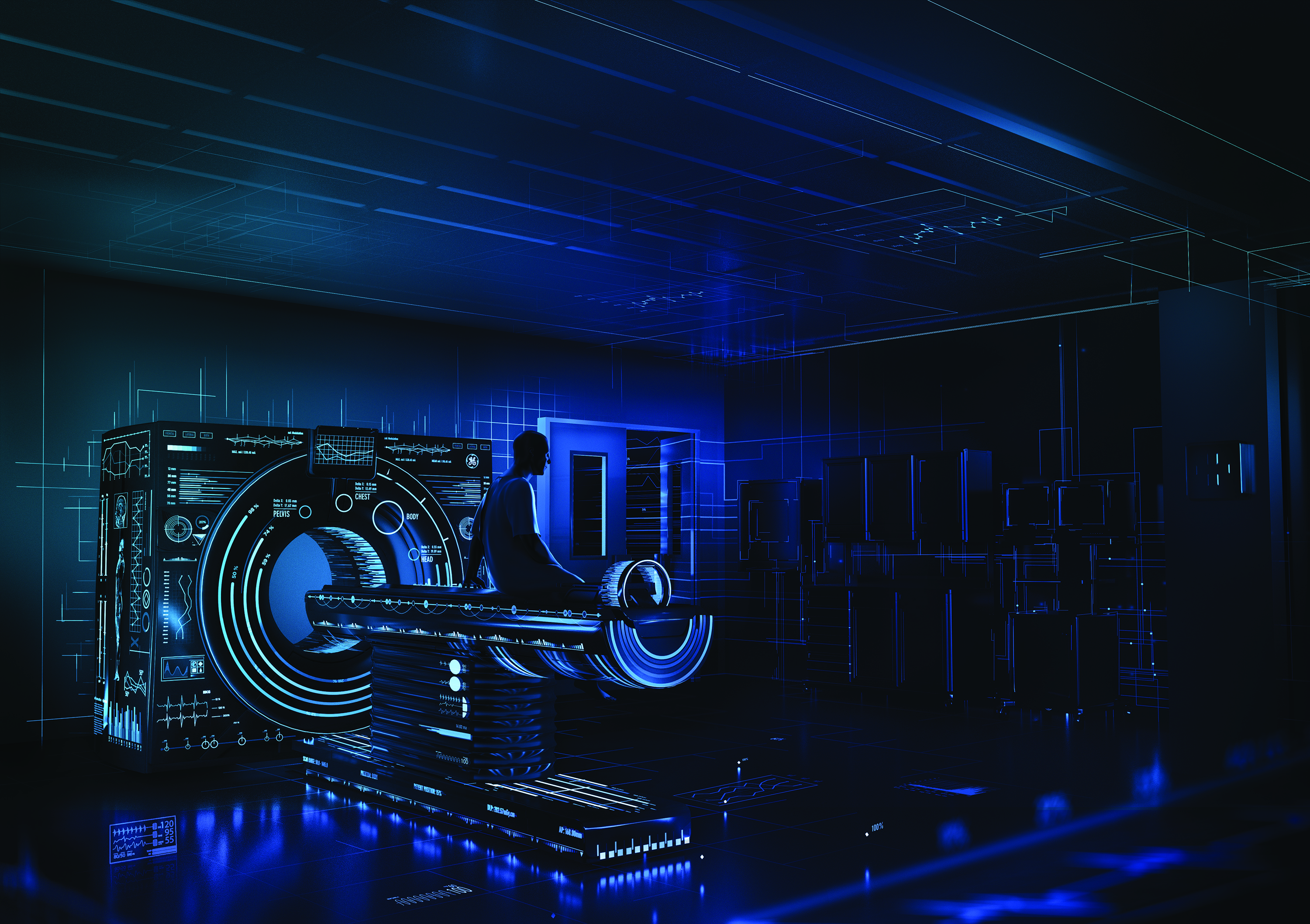 The average number of CT scans in Canada has increased at least 40% over the past decade.[1] CT waitlists have been negatively impacted during COVID lockdowns in Canada.[2] What if we could make CT even faster and simpler to use and make CT scanners smarter after we've delivered them to support both the technicians as well as radiologists and other care providers?  Traditionally, there are trade-offs between quality and access when it comes to producing CT.  For example, increasing the quality of the image usually increases the scan time and radiation dose.  But what if we could increase quality while reducing waitlists through faster scans by leveraging advanced technology?
Intelligent Image Reconstruction: Compared with even the most sophisticated Model-Based Iterative Reconstruction, TrueFidelity™ CT Images take image quality to a new level. GE Healthcare's deep learning-based image reconstruction (DLIR) utilizes a deep neural network-based reconstruction engine to generate high–quality TrueFidelity CT images.
"We had this unfortunate patient in his 70s with a newly diagnosed lung cancer tumor that was invading into the left atrium.  We thought the left atrial component was either tumor or thrombus. Because he had hemoptysis, they were reluctant to anticoagulate him for stroke prevention. We did a multiphasic cardiac CT. DLIR medium produced really clean images which gave us confidence to confirm contrast washout and confirm that the mass was actually a less cellular/ more necrotic component of the tumor and therefore not thrombus."
–Djeven Deva, MB Bch Bao, Cardiothoracic Imaging, Department of Medical Imaging, St. Michael's Hospital, University of Toronto
Automatic Patient Positioning: AI-based automatic patient positioning is an innovative, next generation technology. It is powered by the Xtream camera that enables automatic landmark detection and auto patient centering. This function helps optimize the radiation dose and image quality and it may help avoid positioning errors.  Revolution™ Maxima with AI-Based Auto Positioning uses real-time depth- sensing technology to generate a 3D model of a patient's body to pinpoint the center of the scan. Altogether, this streamlines and automates the entire CT experience for one click, hands-free patient positioning.
Effortless Workflow: Advanced hardware and software capabilities provide seamless scanning experience through to integration of AI built into the workflow without having to log in to other software or applications. Effortless workflow enables automatic selection of scan protocol, automatic positioning of your patient, automatic definition of scout and scan ranges, automatic definition of scan parameters tailored to your patients' needs and their clinical indication for the scan, so the only thing you have to worry about is the wellbeing of your patient.
Smart Subscription:  GE Healthcare is continuously working to improve imaging technology and developed a Smart Subscription service to ensure existing equipment becomes smarter after purchase, reducing risks to providers that the installed base gets left behind.   This enables consistent image quality and dose performance across scans, irrespective of the technologist expertise level.
The need for quality patient care at low dose with greater productivity and affordability is more important than ever.  That's why we design CT systems that help you solve your biggest challenges.  Our family of innovative CT products let you match a system to your exact imaging needs—so you can focus on better patient care.
PET/CT that improves efficiency, helps clinicians detect disease earlier and more accurately, and enhances patient experience
Molecular imaging has long aspired to not only help change the lives of patients every day, but to establish new standards in supporting clinical care. This is what makes molecular imaging so exciting. Lesion detection, low dose, fast scans, and image resolution are important, but it's also about guiding treatment, supporting patients with sensitive care, and ensuring that new discoveries in diagnostics and treatment options can be effectively incorporated into clinical practice.
High Sensitivity Digital PET/CT with Innovative Reconstruction Technology: Our vision for the future of PET is completely digital, from acquisition to reconstruction to open-source reporting solutions. The LightBurst™ Digital Detector is the critical next step for a digital future for PET. Discovery™ MI brings together the sensitivity of digital detection with innovative reconstruction technology, the combination of Time-of-Flight and Q.Clear (BSREM). The result is outstanding resolution and quantitative accuracy to improve the detection of small lesions, while also allowing for a significant reduction in injected dose and acquisition time.
Accurate Data Points to Trusted Treatment: Since its introduction, Q.Clear™ (BSREM) has delivered fast and efficient quantitation readings for confident diagnosis and precise treatment response assessment by providing up to 2X improvement in both PET quantitation accuracy (SUVmean) and image quality (SNR). By using quantitative tools like Q.Clear that are more accurate and consistent compared to conventional methods, this system is designed to support your treatment with precise data points. What this means is your SUV measurements are able to become more than just numbers. They become tools for trusted clinical discovery, diagnosis, and treatment assessment.

Digital Motion Management for Every Patient: Respiratory motion negatively affects about half of all PET/CT procedures. Current gating solutions are cumbersome and take too long to set up, which puts you in the difficult position of having to pick and choose which situations to use it in. As a result, only a small percentage of overall procedures affected by motion receive the benefits of motion correction. However, with MotionFree,™ every patient gets the benefit of reduced motion during their exams for exceptionally clear images.
MotionFree is the first-ever respiratory motion management system that doesn't include a gating device. It continually monitors respiratory motion in every PET/CT procedure, and when it detects an anomaly, it automatically optimizes the scan and integrates what it learns into the final image in real time. MotionFree is the new standard for routine PET imaging and an essential tool for helping improve outcomes.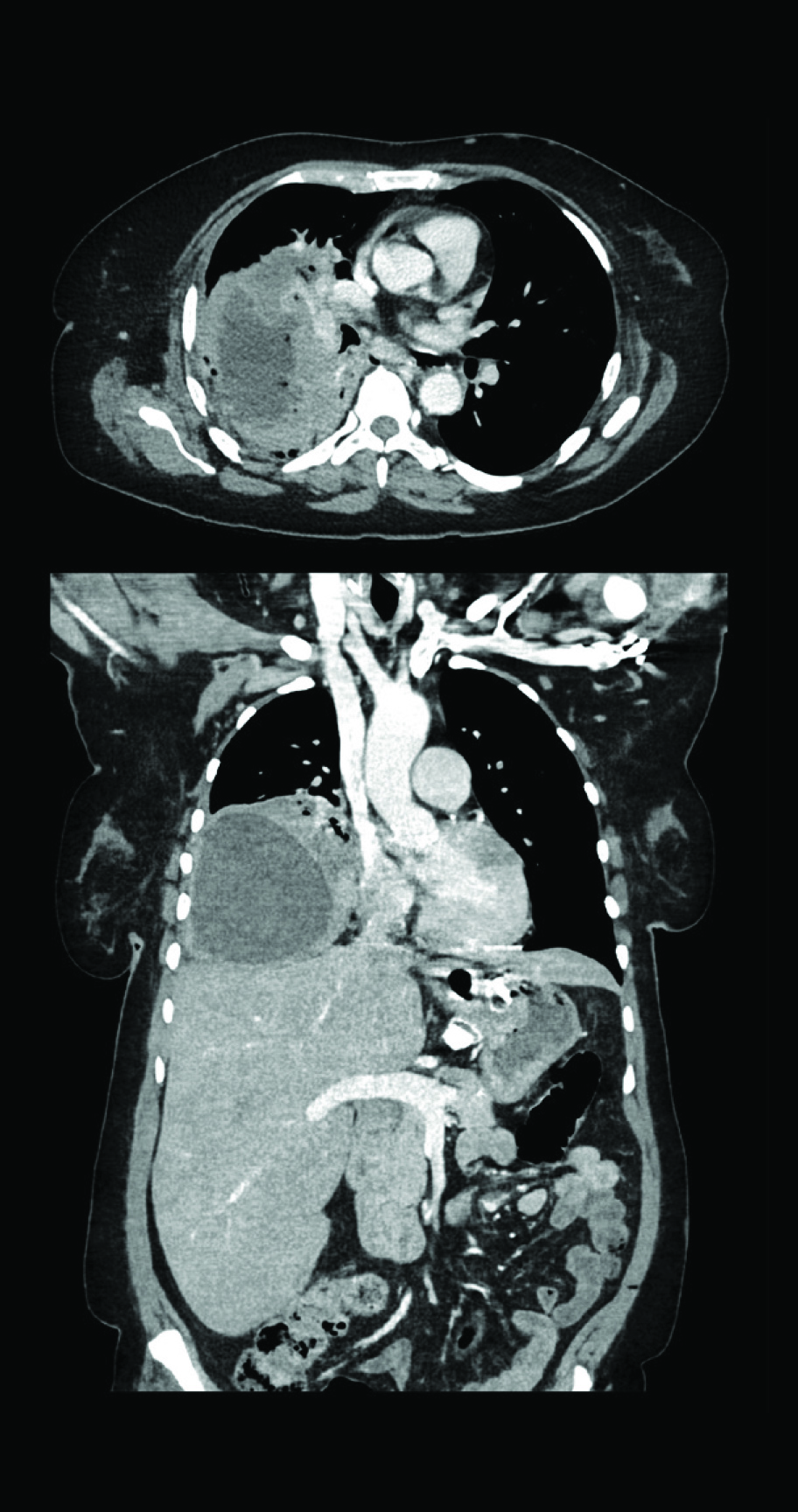 These technologies support seeing disease earlier and more accurately, while increasing departmental throughput, and improving patient experience with less dose and less time in the scanner.
MRI that improves patient experience, image quality, and efficiency
GE Healthcare's focus is not just providing great technology for better patient outcomes, but also for improved patient experience and more productive clinical teams to deliver care more efficiently and produce high quality scans.  To address these needs GE Healthcare has developed the AIR™ family, which consists of three pillars: AIR Coils for patient experience and faster scans, AIR Workflow enhances MR productivity with intelligent workflow applications such AIR Touch™ (automated patient positioning using AI) and AIR x™ (Intelligent MR slice prescription powered by Deep Learning , and lastly AIR Recon DL for better image quality.
AIR™ Coils: GE Healthcare's new AIR Coils technology is an award-winning technology to improve signal reception, depth of penetration, and image quality. It uses a flexible conductor material that allows each coil element to be closer to the anatomy. Its ultra-lightweight and flexible design makes it easier for the technologist to position the coil on the patient.  AIR Coils, awarded Best New Radiology Device of 2019, is a breakthrough coil design technology that is lighter (up to 60% less weight), offers more flexibility, provides greater coverage, allows for faster scanning, and most importantly an improved patient experience.
AIR™ Recon DL, an Edison application providing TrueFidelity™, is a GE Healthcare-first, deep learning-based MR Image reconstruction technology application designed to simplify this choice by improving signal-to-noise and image sharpness while enabling shorter scan times. Shorter scan times help reduce wait lists, but also reduce the amount of time the patient is on the table. In many cases, using this technology reduces scan times by half or a third of the time a standard MRI exam would take.  Clinicians and technologists will no longer have to compromise between image quality and scan time. This application was developed in Canada and uses a neural network trained on tens of thousands of images using GE Healthcare's Edison AI Platform.
This is not a filter or post-processing technique but rather is embedded directly in the reconstruction pipeline, where the neural network model is applied to input data to remove noise and ringing artifacts prior to final image formation.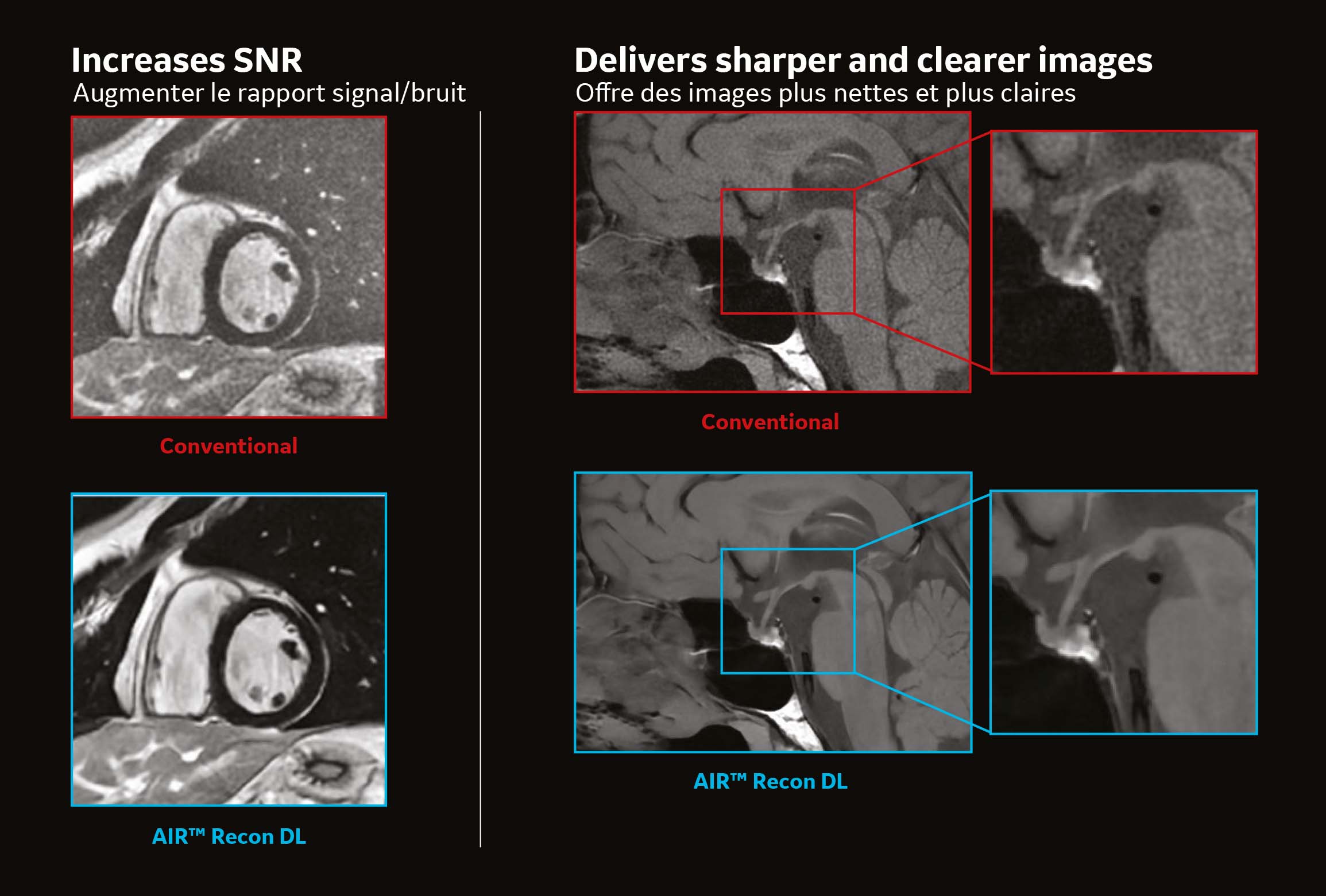 AIR™ Workflow is used to enhance MR productivity with intelligent workflow applications such AIR Touch™ (automated patient positioning using AI) and AIR x™ (Intelligent MR slice prescription powered by Deep Learning for all types of brain and knee exams).  
"We clearly see a huge difference in the quality of our scans and time saved," said Naeem Khan, MD, Chief, Department of Diagnostic Imaging, IWK Health Centre. "We are able to acquire high quality images in half the time as compared to scanning without AIR Recon DL, and if we're very keen on quality for fine details in certain special circumstances, we can let the sequence go on longer yet still not longer than the conventional sequence without AIR Recon DL and the quality will be substantially better."
What really sets our AIR™ family of products apart is the way they all work together. Each one builds off from the potential of the rest of the family, creating a chain of innovation that all links together to transform the entire MR experience.  It is this new GE Healthcare MR experience that will support MR imaging services to achieve and exceed their essential outcomes.
X-Ray that improves quality with on-device AI and applications
X-Ray technology has improved by becoming digital and most recently hi-definition.  The next step is to embed AI to not only help improve image quality and provide clinical information at the point of care, but also to provide critical information to the radiologist enabling diagnostic assistance. GE Healthcare has embedded advanced technologies on-device and adjacent to these devices to improve image quality and diagnosis while reducing rejected/repeated images.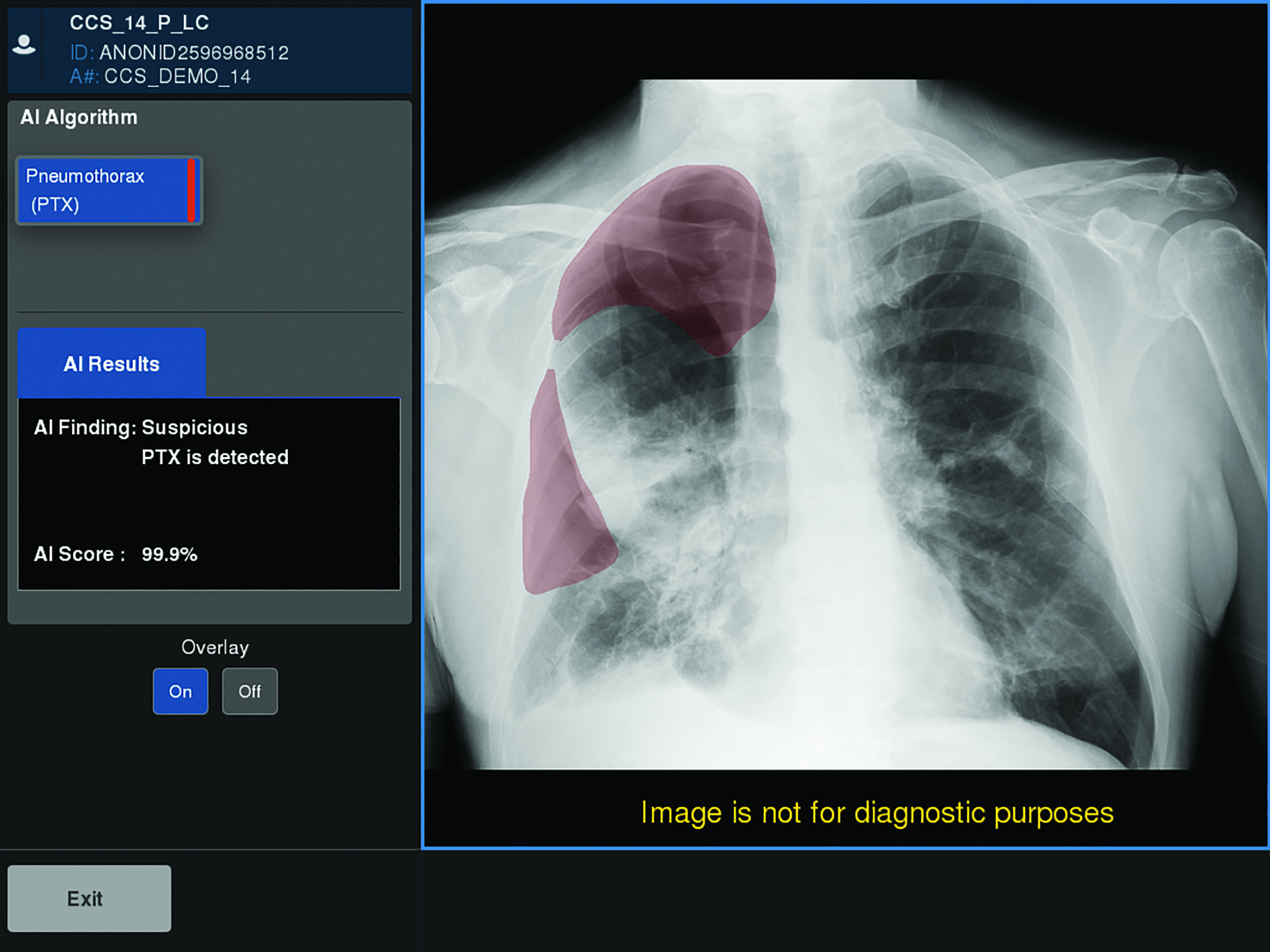 Critical Care Suite: In July 2020, Health Canada licensed the first AI algorithm embedded on a medical device to prioritize critical chest X-Rays called Critical Care Suite. This solution was developed in collaboration with Humber River Hospital in Canada and features a collection of AI algorithms embedded in X-Ray systems for automated measurements, case prioritization, and quality control.  Critical Care Suite™ is an industry-first collection of AI algorithms embedded on GE Healthcare's Optima™ XR AMX™ 240 mobile X-Ray device.  The embedded AI automatically analyzes images on-device and flags cases with suspected pneumothoraxes to help ensure a fast and reliable way of delivering AI results that are generated within seconds of image acquisition. All this is done without any dependency on connectivity or transfer speeds to produce the AI results, which are sent to the radiologist while the device simultaneously shares the original diagnostic image, ensuring no additional processing delay.  Critical Care Suite was optimally tuned through GE Healthcare's strong partnership with Intel using their OpenVino® solution. 
Intelligent Protocol Check: On-device solution increases efficiency and integrates efficiency into the technologist's standard workflow, enabling technologist actions–such as rejections or reprocessing–to occur at the patient's bedside and before the images are sent to PACS.
X-Ray Quality App: Quality and consistency of X-Ray imagery facilitates better quality images being produced, leading to more accurate diagnoses of patients and fewer rejected or repeated exams.  The challenges of X-Ray reject rates can pose an administrative nightmare—increasing cost, radiation dose, and inefficiencies for all. And the burden is especially high for patients, who may need to take repeat exams to get the right scan of the right area at the right time.
GE Healthcare's X-Ray Quality Application (XQA™) uses advanced analytics to reduce rejected and repeated images, producing better throughput, while reducing exam time and producing better quality images.  XQA is designed to work with radiology technologists to help them identify root causes and then limit repeated images while meeting regulatory requirements.
"Humber River technologist reported an individual reduction from 12% to 3% in a 1-month period."
-Dolores Dimitropoulos, Manager, Medical Imaging Department, Humber River Hospital
Embedding technologies right on medical devices and within existing workflows of technicians and radiologists is fundamental to GE Healthcare's objective of increasing access and improving quality.
Ultrasound that uses AI to improve efficiency and quality of care
GE Healthcare has developed leadership General Imaging ultrasound systems that harness AI technology to drive workflow productivity. The new LOGIQ™ E10 series provides competitive differentiation with scalability coupled with a full suite of advanced imaging tools across a broad application set.  We are hearing from customers in Québec and across Canada that they are looking for exam consistency from user to user, improved efficiency, and productivity–completing exams faster with fewer keystrokes, and Improved diagnostic confidence–earlier disease detection.
LOGIQ E10:  GE Healthcare has developed tools to support everything from computer-aided diagnosis to virtual assistants, with AI proving to be a powerful tool that improves quality, efficiency, and cost of healthcare. New decision support tools available on the new LOGIQ E10 series help transform the systems into Intelligent Digital Assistants. The digitally advanced new LOGIQ E10 Series, powered by Edison, leverages AI-based tools to help improve clinical confidence, exam efficiency, and user productivity. On-scanner AI tools currently available include measure assistance, lesion segmentation, and doppler assistance.
"RADIMÉD has many LOGIQ E10 devices. We are very satisfied. User-friendly panel. High quality images. Good device in several imaging categories, including breast, musculoskeletal and vascular."
–Adel Assaf, MD, MSc, Président et fondateur de RADIMÉD

''We have several LOGIQ E10 at IMAGIX, Radiologie Laënnec.  The image quality is very good and especially good in MSK and doppler imaging.''
–David Gianfelice, MD, Radiologist, Imagix Medical Imaging, Boucherville, Quebec
Voluson: As GE Healthcare continues to innovate, a new entrant to the Canadian healthcare marketplace is the Voluson™ SWIFT. We are now changing Women's Health with powerful AI tools for obstetric imaging. For the first time we are improving exam efficiency and consistency using AI with SonoLyst™ IR (Image Recognition) that automatically identifies fetal anatomy seen on standard views. For the fetal brain, SonoCNS™ (Central Nervous System) another Edison AI deep learning–based technology, simplifies assessment including standard measurements and views while providing standardization and improved efficiency.
Through embedded AI technologies on a range of medical devices, GE Healthcare is breaking new ground in providing AI at the point of care that decreases the reliance with on-premises IT infrastructure required to run applications on servers. Having AI tools available on the ultrasound system itself allows for easy integration into existing workflows while providing simplified adoption for both technologists and radiologists.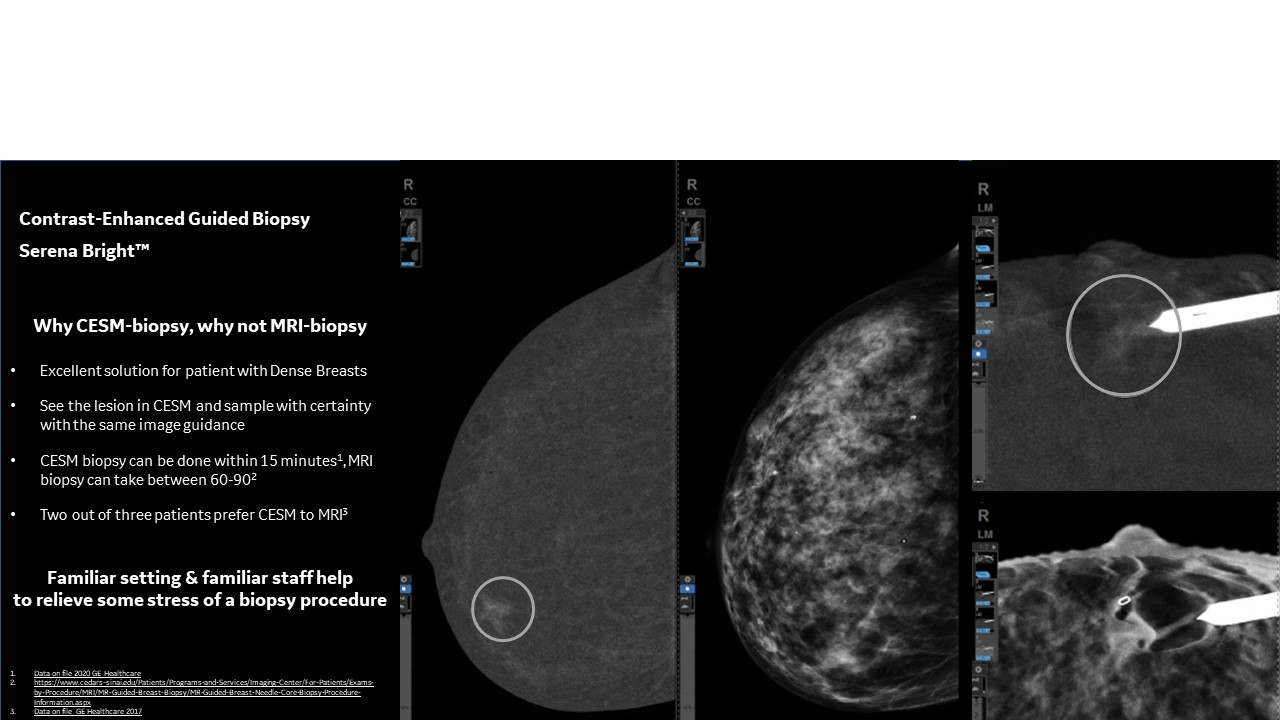 Women's Health
Women's Health: For many women, the number one reason they don't schedule a mammogram is because of the fear and anxiety from the potential result and exam discomfort.  And 40–60% of women don't return due to these issues in Canada. Senographe Pristina™ features the option for patients to use an industry-first patient-assisted compression remote control device, called Pristina Dueta,™ to enable the patient, under the guidance of a technologist, to control the compression that feels right for her during her mammogram. The design and engineering teams collaborated with more than 1,000 radiologists, technologists, and patients for feedback and insight during the development of Senographe Pristina.
GE Healthcare has a long history of commitment to improving women's healthcare through new innovative technology and solutions. To continue advancing breast health technology, the patient must be at the center of every design. From industry-firsts for mammography with the Pristina Dueta, and other innovations like the Serena Bright™ that leverage Pristina Serena and SenoBright™ HD CESM technology to reshape the biopsy experience, we continue to transform the future of breast health with comfort for the patient and more confidence for the clinician.
"We have been practicing the same way for 30 years," says  Anat Kornecki, MD, Professor and Head of Division of Breast Imaging, Western University. "Now change has arrived, and it's here. It [SenoBright™] shifts the entire paradigm of how we think when it comes to assessing breast abnormalities."
The benefits of advanced imaging technology in women's health not only support the patient experience but also contribute to an optimized workflow for the clinicians and technologists performing the exams. Industry leaders in women's health imaging, such as GE Healthcare, are also improving other facets of the imaging workflow to not only help support a positive patient experience, but also create a more efficient experience for the mammography technologist, physician, and other radiology staff.
Comprehensive Service
Flexible Digital Service Solutions: From the moment you consider purchasing a piece of equipment to the moment years later when you upgrade or buy its replacement, our service team is there to provide system uptime and help you improve performance and control cost. Over the past decade, GE Healthcare has evolved its comprehensive service offerings by investing in Digital Service Solutions aimed at helping healthcare providers deliver clinical excellence while maximizing operational efficiency. The idea is to harness data to help with empowered decisions.
Connect with remote experts for accelerated access to service repairs. Timely remote troubleshooting often reduces repair time or even eliminates the need for onsite service.
Predict potential failures to reduce disruptions and enhance care. 24x7 remote monitoring of key system parameters to help with early detection of system failures often even before users are aware of any issue.
Maintain your assets for accreditation readiness and utilization optimization. 24x7 access to cloud-based online tools to provide visibility to asset service and utilization data.
Educate imaging professionals to help them maintain their licensure. Online access to courses that are CMART-recognized on imaging techniques, safety, digital, and leadership topics.
Optimize daily activities through data driven insights for clinical and operational efficiency. New solutions to help with Dose and Protocol Management, Insights, Cybersecurity, etc.
"GE Healthcare appreciates that behind any of our equipment in a clinical facility, there are patients with expectations for having their exams performed reliably and on schedule. GE Healthcare's dedicated Field Service team, as well as specialized online Engineers utilizing advanced remote diagnostics, make it their mission to transform essential services into outcomes that benefit care for patients. In addition to our direct service support, we provide Hospitals and Clinics with access to GE Healthcare Shop™, a simple, fast, and effective eCommerce solution for accurately and easily ordering Parts, Accessories, and Supplies."
- Brian McWilliams, Commercial Service General Manager, GE Healthcare Canada
Conclusion
We are now seeing how the future of advanced technologies and AI can improve access to care without compromising quality.  These technologies will support intelligently efficient care delivery by providing faster scans with better quality images, creating effortless workflows while reducing redundant work such as repeated exams. AI technology can now be embedded in medical devices, bringing automated workflow such as auto protocolling as well as critical triage functions to the point of care.  This is all now possible through the Edison platform that is enabling the development of AI at scale with GE Healthcare and 3rd parties for a more robust AI marketplace and rapid deployment.  GE Healthcare is committed to developing the most advanced technologies and striving to work with our customers in Québec and across Canada to deliver real-world solutions that benefit both patients and providers to improve care in the moments that matter.
Heather Chalmers

President and CEO, GE Canada President, GE Healthcare Canada

Eve LaRiviére

General Manager, GE Healthcare Eastern Canada
References
[1] Deloitte LLP. "Clearing the Backlog, the Cost to Return Wait Times to Pre-Pandemic Levels," October 2020. Canadian Medical Association. Ontario, Canada.
[3] Eric C. Schneider et al., Mirror, Mirror 2021 — Reflecting Poorly: Health Care in the U.S. Compared to Other High-Income Countries (Commonwealth Fund, August 2021). https://doi.org/10.26099/01dv-h208
[4] Hamoni, R.; Matthews, M.; and Watson, M. "Digital Transformation: The Next Big Leap in Healthcare," August 2021. Information and Communications Technology Council (ICTC). Ottawa, Canada.