There's no denying that ultrasound has come a long way. Its continued integration into primary care has granted patients access to higher-quality and more reliable treatment, while helping general practitioners (GPs) and other providers grow diagnostic confidence and expand their practices.
The technology's simplicity has fueled the surge in primary care ultrasound adoption among GPs. While clinicians still face headwinds and learning curves,1 ultrasound technology has gotten simpler in several key ways, featuring greater accessibility and a streamlined workflow. This ease of use allows GPs of all experience levels to hit the ground running, provided they have the right system in place.
Read on to learn how ultrasound technology has evolved and pivoted toward simplicity, and what you can expect when upgrading your current system.
Small footprint and accessible devices
The right primary care ultrasound system can accommodate all of your clinical and operational needs with a minimal footprint. Small footprint and easily transported ultrasound units have greatly simplified bedside examinations, expanding its application to once-tricky environments and patients with mobility issues.2
This utility is one of several key factors positioning primary care settings among the fastest-growing spaces for new ultrasound use.3 To maximize these benefits in your own practice, look for a lightweight or portable ultrasound system that can confidently deliver high quality, even in the tightest environments.
Inbuilt tools for workflow, reporting, and image acquisition
Past ultrasound systems involved fragmented, tedious, or difficult processes. Today, the right system can streamline multiple tasks with features like customized image presets for clinicians, needle recognition, automatic image adjustment, and even automated tools for labeling, cataloging, and storing images.
Hands-free voice commands allow clinicians to perform scans without having to manually adjust a unit's display or operational functions. Intuitive user interfaces offer easy-to-follow, step-by-step protocols for initial use and ongoing operation, enhanced with highly personalized, local support and training. Meanwhile, software-based systems permit simple setup upgrades whenever you need more options and features.
From an operational standpoint, contemporary reporting templates make it easier to standardize and accurately capture scan volume and type for the highest and most reliable insurance reimbursement potential. These templates not only help simplify the experiences of clinicians and administrators, but they also help ensure ongoing regulatory compliance and maximized receivables for scans performed.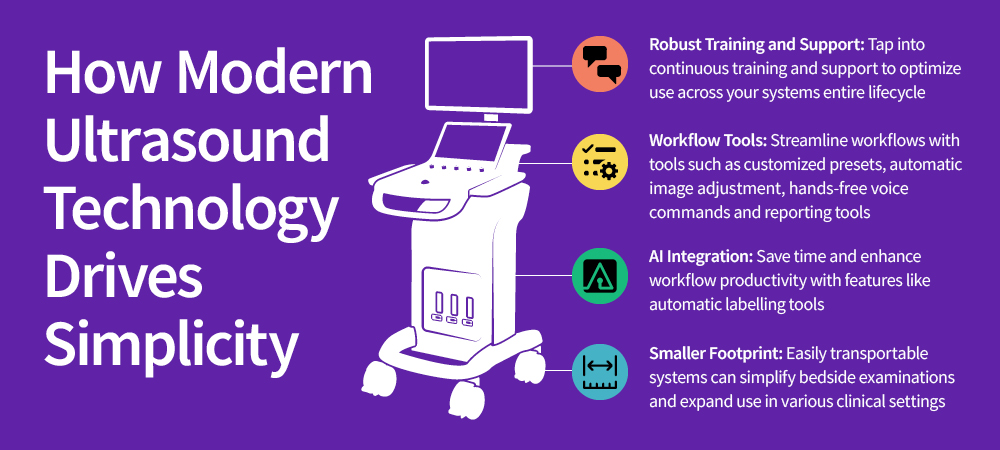 AI and deep learning
Ultrasound has been at forefront of embracing the benefits of artificial intelligence (AI). AI has introduced ultrasound into a much broader range of clinical settings, including primary care, and, with deep learning, it has the potential to take the technology even further.4 For example, deep learning architectures can help match display pixels to their corresponding organs during a scan, assisting with cataloging and labeling.
Not only has AI greatly reduced process-related administrative tedium and optimized image quality, but it has also supported crucial real-time performance, helping to guide probe direction, anatomy detection, and other key elements. AI may also help flatten the learning curve, a long-time barrier to widespread ultrasound adaptation.
Look for an ultrasound system that offers a full suite of AI-enabled tools to help automate time-consuming tasks—like image labeling and categorization—while maintaining image clarity, precision, and quality during a scan.
More robust training and support
Another benefit of this ultrasound evolution is increased access to education on its use. With the right system, your practice or organization can tap into continuous training and support, optimizing integration from first acquisition, through the initial set-up phase, and across its entire lifecycle.
Even the most user-friendly system may involve a learning curve. Your practice should expect the right kind of guidance during first-phase implementation, support for operability issues, and upgrade assistance.
The right ultrasound equipment provider will offer strong training and support tools for their ultrasound products. Moreover, you may want to look for an equipment provider with local representatives in all regions, as well as remote teams to help with software updates for easy system upgrades.
The way forward: How to make ultrasound simpler for you
Simplifying ultrasound use in your practice first requires you to understand what you need—and what you don't. Your organization should conduct a thorough needs and resources assessment to determine current system requirements, your potential for upward scalability, and options for upgrading without changing your entire equipment paradigm. Fortunately, ultrasound has become simpler to use; you can trust that users will perform exams confidently and that your systems will be ready for you, now and in the future, as your practice grows.
---
Reliable, affordable, easy-to-use and versatile, Versana ultrasound systems have a variety of automation features, intuitive controls, and budget-friendly options to best meet patient needs. 
---
REFERENCES:
Løkkegaard T, Todsen T, Nayahangan LJ, Andersen CA, Jensen MB, & Konge L. Point-of-care ultrasound for general practitioners: a systematic needs assessment. Scandinavian Journal of Primary Health Care. 2020; 38(1): 3–11. https://doi.org/10.1080/02813432.2020.1711572.

Kim YH. Artificial intelligence in medical ultrasonography: driving on an unpaved road. Ultrasonography. 2021; 40(3): 313–317. https://doi.org/10.14366/usg.21031.