When diagnostic imaging (DI) equipment at Orillia Soldiers' Memorial Hospital needs servicing, who do they call? These days it's as easy as a simple four- digit extension: 6363 or MEND.
Two years ago, the Ontario-based hospital decided to go the route of a multi-vendor service (MVS) agreement, negotiating one large contract with GE Healthcare that covers all biomedical and DI equipment, regardless of the original equipment manufacturer (OEM). Jeff Kerk, director of Diagnostic Services, said the decision came on the heels of an extensive vendor contract evaluation and was viewed as a way to increase efficiencies and uptime while lowering costs.
"We found in our audit that there was a lot of inconsistency with the actual agreements. Vendors had different uptime guarantees, different travel costs and there were different triggers to indicate when a service call would be considered overtime," said Kerk. "The worst part from a frontline perspective was getting hold of people."
Under the new MVS agreement, whenever there's an issue with a piece of equipment–GE or non-GE–staff members dial 6363 to reach a GE Healthcare representative who has remote access to diagnostic information, including error codes, and can determine the appropriate course of action. Depending on the problem, an onsite GE technical resource can be dispatched, a GE Healthcare field service representative can be assigned, or in some instances the OEM is called. Every scenario is managed by GE Healthcare.
"Staff don't need to know the unique identifier for the equipment, they don't need to have a purchase order if it's after hours; they're instructed just to call 6363," explained Kerk.
Brian McWilliams, GE Healthcare's Canadian General Manager, Service Sales, said the company invested more than $25 million over the past three years to establish a Technical Centre of Excellence in Milwaukee where field service representatives are sent for training on more than 100 non-GE imaging devices. There are roughly 180 field service representatives working in Canada alone, she added, all of whom are considered technical gurus.
"At the end of the day, no matter what equipment you have, you have to make sure that patient flow is uninterrupted and that high-end technology is functioning to the best of its ability," said McWilliams, noting that GE Healthcare also has a dedicated resource in place to build solid relationships with other vendors in support of its MVS approach.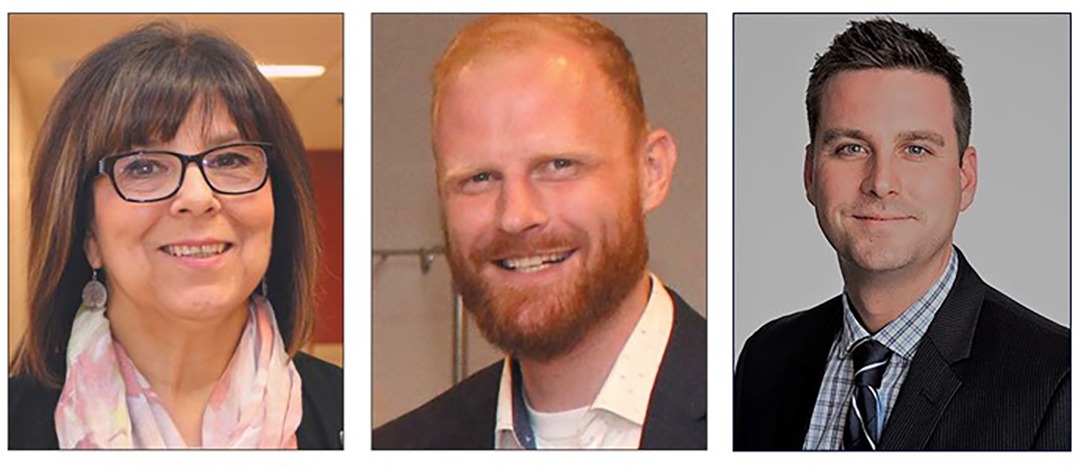 From Left to Right: Bonnie Sipos, Niagara Health, Jeff Kerk, Orillia Soldiers' Memorial Hospital, Brian McWilliams, GE Healthcare's GM, Service Sales
Negotiating an MVS agreement is a highly tailored process that takes into account factors like age of equipment, historical performance, activity level, and uptime. Each MVS is unique.
Niagara Health, a multisite hospital serving the Niagara region in Ontario, has used some form of MVS contract for the past 15 years to service its X-ray and portable units, as well as ultrasound, fluoroscopy and nuclear medicine equipment. In 2013, the organization entered into an agreement with GE Healthcare that now adds CT scan, MRI and interventional suites to the agreement as well.
Niagara Health Regional Director, Diagnostics/Laboratory/Infection Control, Bonnie Sipos said the move was largely viewed as a way to control costs. "At that point in time, service was becoming very expensive and we had a limited number of dollars," said Sipos. "It was very important to us to ensure that quality of the service and uptime would not be impacted, and to maintain our quality of patient care." The MVS contract negotiated with GE Healthcare covers 134 pieces of equipment in what Sipos refers to as a hybrid agreement, meaning different service options are provided depending on the type of equipment covered.
Full-service contracts, including labour, parts and specialty parts, are in place for very high end, specialized pieces of equipment like CT scan and MRI, whereas other pieces of equipment are grouped to include labour and parts, with a preferred pricing option for specialty parts.
Less complex equipment, including ultrasound and portable X-ray, is supported by a resource pool system where service calls and parts are deducted from the pool as used. Since moving  to  an  MVS  agreement, the health system has reduced equipment downtime and freed up time for managers who no longer have to deal with service issues and repair follow up. The equipment maintenance budget is lower and yet a very high level of service is maintained.
"It's a more organized, coordinated approach," said Sipos, noting that she receives monthly reports and also holds quarterly meetings with GE Healthcare to look at ways to manage the contract collaboratively. At Orillia Soldiers' Memorial Hospital, Kerk said a main benefit of the MVS model is better uptime guarantee. If equipment breaks, it's back in operation very quickly.
GE technicians also use remote diagnostic software to preempt failures. For example, GE Healthcare recently alerted the hospital that the X-ray tube on a piece of nuclear medicine equipment needed to be replaced. The hospital was able to plan downtime for the servicing, without inconveniencing patients.
"It's worked very well for us both financially and from a quality perspective," said Kerk.