As the healthcare industry continues to adapt to mounting challenges, including clinician shortages and the aftereffects of the COVID-19 pandemic, primary care is becoming more important than ever. General practitioners (GPs) around the world find themselves in a unique position to expand their capabilities and the services they offer patients. One way they can do this is by bringing various specialties in-house using ultrasound.
Primary care ultrasound can be a significant addition for physicians and healthcare organizations, with impacts that include detecting acute conditions, managing chronic diseases, and guiding procedures. This can ultimately allow clinicians to treat more conditions and increase offerings to patients.
Some general practitioners (GPs) may be hesitant to bring ultrasound in-house due to a lack of training and support. However, GPs may safely and effectively use ultrasound in various clinical settings to aid patient care. In fact, a versatile ultrasound system can help address some of the challenges GPs face.
What are the benefits of ultrasound in primary care?
For GPs who may have been on the fence about bringing ultrasound into their practice—or even those who hadn't considered it before—there is no better time to start than now. Primary care is the cornerstone of effective and efficient healthcare, and adding ultrasound to a primary care practice comes with a number of benefits for both providers and patients, including:
Portable and easy for clinicians to use. Ultrasound machines are ready to use at a moment's notice. Clinicians can move them around from one room to another and handheld devices offer even greater accessibility. With effective and simple training, general practitioners can begin to implement ultrasound scans in their appointments. Bringing GPs up to speed with ultrasound doesn't have to be time-consuming either—even a short training course that includes hands-on practice can improve physicians' confidence and performance.1
Accessible and shareable data. Cloud-based ultrasound technology allows clinicians to share information in real time with their colleagues. GPs can share patient information with specialists and modify care plans as needed. By facilitating secure collaboration, cloud-based ultrasound technology can improve workflows and ultrasound image management.
Efficient diagnosis and operations lead to improved patient care. In-office ultrasound reduces the time to diagnosis compared to other imaging modalities. In rural clinics and busy emergency departments, ultrasound can not only facilitate patient triage, but it can quickly provide diagnostic information, potentially even reducing wait times compared to conventional diagnostic imaging.2,3 This efficiency helps jumpstart more effective patient care and greater diagnostic precision. The generalized use of ultrasound by family physicians may also enable risk stratification, rule out differential diagnoses, guide therapeutic decisions, and monitor patients' responses to treatment.4 It is also non-invasive and can be performed repeatedly, if necessary, without exposing patients to ionizing radiation.
Reduced unnecessary testing leading to improved patient satisfaction. Some studies show that primary care ultrasound can reduce the need for further testing in up to 65.6% of scans.5 Improving patient care with primary care ultrasound comes with the added benefit of improving patient satisfaction; 69% of patients who received abdominal scans were satisfied or very satisfied with the procedure.
Economic efficiency. Offering ultrasound services can also generate a new stream of revenue for the practice since patients won't need to be referred to a specialist. GPs may even be able to see more patients, which can also increase revenue—along with fewer unnecessary exams and more efficient time to diagnosis.
What are the barriers to ultrasound use in primary care?
With all these benefits to using ultrasound in primary care, there are a few barriers to its adoption in the primary care space to be circumvented, including a lack of access to education and training, as well as a lack of access to equipment. Breaching some of these barriers would mean that greater numbers of clinicians and their patients around the world would experience the above benefits.
Ultrasound has traditionally been performed by trained radiologists and sonographers, but advancements in the technology made the devices smaller, cheaper, more intuitive, and more accessible to a wider range of clinicians. It is a user-dependent technology, which means that training is critical for avoiding interpretive error and advancing patient care.
In the United States, although more medical schools are integrating ultrasound training into their curriculum, it is not consistent. In Europe, however, ultrasound imaging is integrated as a core syllabus subject in many medical school curricula. More specifically, in Germany, the necessary health requirements for professional ultrasound qualifications can be acquired through a combination of different options:6
Professional qualifications in accordance with training regulations
A full-time 18-month period of ultrasound activity
Attending ultrasound courses
Computer-assisted advanced training and ultrasound courses
Accordingly, access to in-house ultrasound also varies significantly by country.7 Much of the literature on barriers to ultrasound use focuses on high-income countries, such as the United States, the United Kingdom, and Switzerland. However, low- and middle-income countries may experience additional challenges with maintaining, obtaining, and updating ultrasound machines.8 According to one survey, 45% of respondents from these kinds of areas reported that they lacked access to equipment and 47% noted that they lacked the ability to perform necessary maintenance to keep devices running.
With all of that said, evidence suggests that, with training, non-radiologist clinicians in low-income countries can become proficient in ultrasound use. For example, under in-person and remote mentorship from four breast radiologists from Brigham and Women's Hospital in Boston, general practitioners and nurses in Rwanda developed strong skills in diagnostic breast ultrasound. The sensitivity of their assessments in identifying masses also improved after sustained mentorship from the radiologists.9
Use cases for ultrasound in primary care
For institutions that can overcome these barriers and adopt ultrasound in primary care settings, physicians may use it for a number of different applications and make clinical decisions in real time based on their findings—potentially without the need for specialist referrals.
Due to its versatility, ultrasound was the second most commonly requested diagnostic exam by GPs between 2018 and 2019 in the U.K., generating 10.2 million referrals annually. Moreover, demand for fast access to diagnostic ultrasound is expected to increase by 25%.10 But what if some of those scans could be performed by GPs, reducing the need for additional appointments?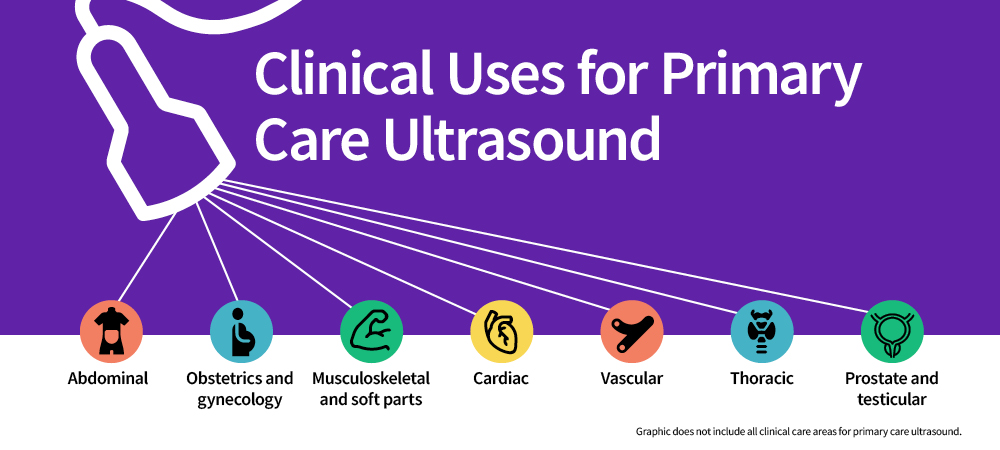 One study on ultrasound imaging in Swiss primary care found that abdominal scans were not only the most common ultrasound exam (68%), but that they were performed by almost all ultrasound users (97%). Among female patients, the main obstetric and gynecological scans included ovarian pathology, uterine assessment, and abnormal vaginal bleeding. For male patients, the second most common type of ultrasound was for musculoskeletal and soft parts conditions.11 Both abdominal and obstetrics scans, given their frequency, are great opportunities for GPs to become involved and optimize the workflow.
Other popular clinical uses of ultrasound include:
Cardiac
Vascular
Thoracic
Prostate and testicular
With proper training and access to equipment, imaging exams that would have required a referral to a specialist may be performed by GPs so that healthcare institutions may experience some of the benefits above.
What ultrasound features should GPs look for?
As GPs look to bring more specialties in-house, two features they should look for in an ultrasound system is versatility and ease-of-use. Versatile ultrasound systems can support abdominal, OB/GYN, cardiac, vascular, and MSK exams. Intuitive automated controls can also help streamline workflows and enable clinicians to move quickly and easily between images.
Considering how the lack of training is often a barrier to the use of ultrasound in primary care, GPs should look for systems that include education and support to help them get up to speed quickly and sharpen their skills. GPs who want to deliver more specialized care should look for features that will enable ease of learning, streamline workflows, provide real-time imaging guidance, and automatically optimize image quality while they scan. Remote or on-site instructor led support or self-paced community support provide GPs with training options that fit their needs and schedules.
As a primary care practice grows, it can expand its ultrasound system with more configurations to provide more services to patients. Practices can seek out an ultrasound system that can support various probes, including abdominal, vascular, small organs, and MSK. Multiple exam protocols and applications also enable clinicians to diagnose and treat a wide range of patient conditions.
Versatile ultrasound systems may address many of the obstacles GPs face today, offering the enhanced level of care they are searching for while providing economic benefits for their practice as a whole.
---
Reliable, affordable, easy-to-use and versatile, Versana ultrasound systems have a variety of automation features, intuitive controls, and budget-friendly options to best meet patient needs. 
---
Not all products are available in all regions. Check with your local sales representative.
REFERENCES:
1. Raiteria A, Muratori L, Faggiano C, et al. Efficacy of a short course of lung ultrasound for primary care physicians in the assessment of COVID-19-positive patients. Family Practice. 2022 August;39(4):656–661. https://doi.org/10.1093/fampra/cmab150.
2. Frasure SE, Dearing E, Burke M, et al. Application of point-of-care ultrasound for family medicine physicians for abdominopelvic and soft tissue assessment. Cureus. 2020 Aug 13;12(8):e9723. doi: 10.7759/cureus.9723.
3. Diego-Domínguez F, Torrecilla-García M, Casado-Huerga J, et al. Effectiveness of a primary care clinical ultrasound classroom for family physicians as a formative intervention system, a quasi-experimental trial: Study protocol. Medicine (Baltimore). 2020 Jul 2;99(27):e19914. doi: 10.1097/MD.0000000000019914.
4. Conangla-Ferrin L, Vila-Guirado P, Solanes-Cabús M, et al. Ultrasound in primary care: Consensus recommendations on its applications and training. Results of a 3-round Delphi study. European Journal of General Practice. 2022 December;28(1):253-259. https://doi.org/10.1080/13814788.2022.2150163.
5. Aakjær Andersen, C, Holden S, Vela, J, et al. Point-of-care ultrasound in general practice: a systematic review. The Annals of Family Medicine 17, no. 1 (2019): 61–69. https://doi.org/10.1370/afm.2330.
6. European Society of Radiology (ESR). Position statement and best practice recommendations on the imaging use of ultrasound from the European Society of Radiology ultrasound subcommittee. Insights Imaging 11, 115 (2020). https://doi.org/10.1186/s13244-020-00919-x
7. Aakjær Andersen C, Jensen MBB, Toftegaard BS, et al. Primary care physicians' access to in-house ultrasound examinations across Europe: a questionnaire study. BMJ Open, 2019;9:e030958. doi: 10.1136/bmjopen-2019-030958.
8. Shah S, Bellows BA, Adedipe AA, et al. Perceived barriers in the use of ultrasound in developing countries. Crit Ultrasound J. 2015 June;7(11). https://doi.org/10.1186/s13089-015-0028-2.
9. Raza S, Frost E, Kwait D, et al. Training nonradiologist clinicians in diagnostic breast ultrasound in rural Rwanda: impact on knowledge and skills. Journal of the American College of Radiology. 2021 January; 18(1)121-127. https://doi.org/10.1016/j.jacr.2020.08.013
10. Smith S, Parker T, Parker P. The justification of non-obstetric ultrasound referrals: A safe and effective practice. Ultrasound. 2022;30(1):52-61. doi:10.1177/1742271X211005510
11. Touhami D, Merlo C, Hohmann J, et al. The use of ultrasound in primary care: longitudinal billing and cross-sectional survey study in Switzerland. BMC Fam Pract. 2020 July;2(127). https://doi.org/10.1186/s12875-020-01209-7.